Vietnamese Pulled Pork Lettuce Wraps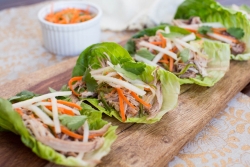 Pulled pork receives a Vietnamese makeover with an umami rich marinade of hoisin sauce and fish sauce, spiked with sriracha, and full of aromatic ginger, garlic, sesame oil, and caramelized onions. A 24-hour sous vide treatment renders the pork meltingly tender – it literally falls apart with the prod of a fork. It then gets sprinkled with brown sugar and blasted under the broiler to mimic that charred sweetness reminiscent of true Vietnamese street food eats. BYO little red stool.
Author
Stephanie Hua
Stephanie is a food writer, photographer, recipe tester & developer based in SF. She received her culinary arts training at the San Francisco Cooking School and is the creator of food blog, Lick My Spoon (a place for all things delicious). Her work has appeared in The Huffington Post, Fodor's Travel, PBS, Serious Eats, SF Weekly, and KQED, among others.
Prep Time: 00:45
Recipe Time: 24:00
Temperature : 158F / 70C
Ingredients
1 tablespoon sesame oil
1 tablespoon extra virgin olive oil
1 medium yellow onion, diced
8 cloves garlic, minced
2 tablespoons minced fresh ginger
1/2 cup hoisin sauce
1/4 cup fish sauce
1/4 cup water
1 teaspoon Sriracha sauce, or to taste
5 pounds boneless, skinless pork shoulder, fat cap removed
2 tablespoons light brown sugar
1 tablespoon granulated sugar
1/4 teaspoon kosher salt
1/2 cup rice vinegar
2 carrots, julienned
1 cucumber, julienned
Little gem or butter lettuce, separated into leaves
1 Asian pear, julienned
Fresh cilantro leaves
Cooked vermicelli rice noodles or roasted spaghetti squash strands (optional)
Directions
Set the Anova Sous Vide Precision Cooker to 158ºF (70ºC).
Heat a large skillet over medium-high heat for 1 minute. Add the sesame and olive oils, then the onions, stirring to combine. Cook, stirring frequently, until the onions are softened and lightly browned, about 5 minutes. Add the garlic and continue to cook until the onions are caramelized. Remove from the heat and stir in the ginger.
Add the hoisin sauce, fish sauce, and water to the pan, stirring to combine. Add sriracha to taste.
Place the pork in a large zipper lock bag with the onion and hoisin mixture. Seal the bag using the water immersion technique.
Place the bag in the water bath and set the timer for 24 hours. Cover the water bath with plastic wrap to minimize water evaporation. Add water intermittently to keep the pork submerged.
Meanwhile, prepare the pickled vegetables: Whisk together the granulated sugar, salt and rice vinegar in a large bowl. Add the carrots and cucumber and transfer to a covered storage container. Let rest, refrigerated, for at least 30 minutes, or up to 2 days.
Finishing Steps
When the timer goes off, remove the bag from the water bath. Remove the pork from the bag and remove any large pieces of fat. Reserve the cooking liquid. Preheat the oven to 500ºF or turn the broiler to high.
Using two forks, shred the pork into bite-sized pieces. The meat should be unbelievably tender and should shred off easily.
Place the shredded pork in a baking dish and stir in some of the reserved cooking liquid. Sprinkle with brown sugar, and transfer to the oven. Bake or broil until caramelized, 10 to 15 minutes. (Keep an eye on the pork if the broiler is strong.)
Assemble lettuce cups by filling lettuce halves with pulled pork and topping with pickled vegetables, julienned pear, and cilantro. If you want to bulk it up, also add some cooked vermicelli rice noodles. (Roasted spaghetti squash strands make an awesome substitute if you're going grain-free.) Serve.