Sous Vide Vegan Cauliflower Alfredo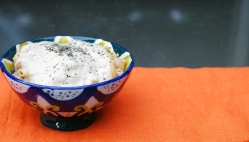 You may have tried cauliflower in place of mashed potatoes, but cauliflower can be so much more. It's thick, silky texture creates a nutritious no-fat alfredo sauce.
Author
Kathy Hester
The author of 5 cookbooks and the the blogger behind Healthy Slow Cooking. Kathy likes to show just how easy it is to make craft cocktails and healthy food.
Prep Time: 00:15
Recipe Time: 01:30
Temperature : 185F / 85C
Ingredients
4 cups (about 400 g) chopped cauliflower
2 cups (474 ml) water
2/3 cup (170 g) cashews
2 cloves garlic
1/2 teaspoon dried oregano
1/2 teaspoon dried basil
1/2 teaspoon dried rosemary
4 tablespoons nutritional yeast
Salt and pepper, to taste
Directions
Set the Anova Precision Cooker to 185ºF (85ºC).
Add the cauliflower, water cashews, garlic, oregano, basil and rosemary to a plastic zip-seal bag and close. Put the bag into the sous vide and cook 1 1/2 hours. Pour contents into your blender.
Finishing Step