Sous Vide Wahoo with Pineapple Mango Mint Salsa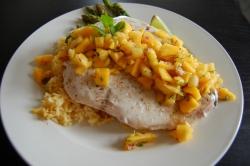 Wahoo is known as ono in Hawaii. If you cannot find wahoo, look for other steak-like white fish such as swordfish or grouper. You want steaks that are about ½-inch thick. I don't like searing fish after cooking it with the Anova Precision Cooker. I am typically saucing it, and as it is when it comes out of the cooker, it reminds me of the very best poached fish. The sous vide technique lets the flavors really shine. Feel free to double the recipe for the salsa. It was so good I wanted to eat it as my mid-afternoon snack all on its own.
Author
Barbara Freda
I grew up in a cooking family and after getting a degree in Spanish and Anthropology, realized what I really wanted to do was to go to culinary school. After working in a NYC bank for a few years, I managed to get to culinary school and got my first jobs in NYC kitchens, including a long stint at Union Square Cafe in its earliest years. After (sadly) leaving NYC, I realized I needed to step away from the 80-hour work weeks, so I left the heat of the kitchen for the cool of the computer keyboard: I started writing about food, the business of food, and technology in the food industry, as well as teaching cooking classes. Recipe development remains one of my top loves, and the opportunity to develop recipes for Anova has been fun every step of the way.
Prep Time: 00:20
Recipe Time: 00:30
Temperature : 122F / 50C
Ingredients
2 (12-ounce) wahoo steaks, about 1/2 inch thick
Salt and freshly ground black pepper
1/8 fresh pineapple, peeled, cored and chopped
1/2 fresh mango, peeled and chopped
1 tablespoon finely chopped red onion
1 tablespoon chopped fresh mint, plus whole leaves for serving
1 teaspoon freshly grated ginger
1/4 teaspoon ground cumin
Juice of 1/4 lime
Paprika
Red pepper flakes
Directions
Set the Anova Sous Vide Precision Cooker to 122ºF (50ºC).
Season fish with salt and pepper. Place each piece in its own medium zipper lock bag. Seal the bags using the water immersion technique. Place the bags in the water bath and set the timer for 30 minutes.
While fish cooks, make the salsa: Mix together pineapple, mango, red onion, mint, ginger, cumin, and lime juice in a medium bowl. Season with a dash of paprika, red pepper flakes, and salt. Set aside, covered, at room temperature.
Finishing Steps
When the timer goes off, remove the bags from the water bath. Gently remove the fish from the bags and pat dry. Discard any cooking liquid.
Serve fish topped with salsa and fresh mint leaves.