Sous Vide Vegetarian Buddha Bowl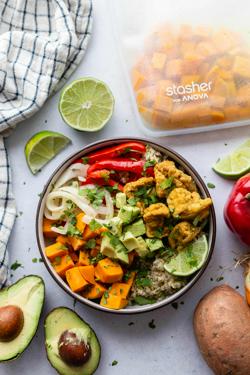 I'm so excited to have teamed up with Anova + Imperfect Foods to create Anova's first sous vide vegetarian buddha bowl! I used my Anova Precision Cooker, Anova Stasher bag plus ingredients from my Imperfect Foods box including quinoa, onions, peppers and sweet potato to create an easy, meat free dinner. I'm grateful to be able to share this delicious recipe knowing it helps fight food waste from my very own kitchen. Make sure to check out my video for easy to see step by step instructions!
Author
Brita Britnell
Hi! I'm Brita, a food blogger and videographer. I got started cooking purely as a hobby and turned my passion into a career cooking and sharing recipes with the world. I run a (mostly) plant-based blog called Food with Feeling which encourages people to incorporate more meat-free and plant-based recipes into their lifestyle. I love the flexibility that sous vide brings to my cooking and the extra time it gives me to spend with my daughter and husband. Plus - my husband geeks out knowing he can hook our Anova up through the app and check on things through his phone from anywhere! I'm excited to share some of my favorite recipes with #anovafoodnerds
Prep Time: 00:15
Recipe Time: 01:30
Temperature : 180F / 82.2C
Ingredients
1 small yellow onion
1 bell pepper
2 teaspoons of olive oil
Salt and pepper to taste
1 cup of quinoa, rinsed
1 1/2 cups of water
2 cloves of garlic, minced
A few sprigs of fresh herbs (optional)
2 small sweet potatoes, peeled and diced into 1 inch pieces
Optional toppings: avocado, cilantro, plant based protein
Directions
Set your Anova Sous Vide Precision Cooker to 180ºF / 82.2ºC
Place the sweet potato in a bag and toss with a teaspoon of olive oil. Release as much air from the bag as possible and place into the sous vide water set to 180 degrees for 30 minutes.
In another bag, place the quinoa, garlic, optional herbs, a bit of salt and pepper and water. Release as much air as possible, seal and set aside
In another bag, add the peppers and onion and season with salt and pepper. Set aside.
After 30 minutes, add in the bags of quinoa and onion/ peppers and cook for an additional hour.
Finishing Steps
Once everything is cooked, assemble your bowl by splitting the quinoa, onion, peppers, and sweet potato among 4 bowls or meal prep containers. Top with desired toppings such as a plant based protein, fresh avocado and cilantro etc!