Sous Vide Veal Chop with Parsnip Puree and Herb Salad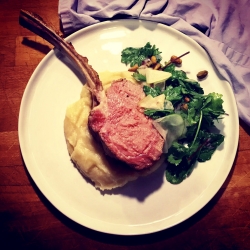 Adina has a flair for making food look beautiful. With Anova, she ensures the dish is as delicious as it is beautiful. Here, she takes a rack of veal, and pairs with a parsnip puree and a fresh herb salad. Cooked perfectly pink, the chop is full of moisture AND flavor! Sure to impress for any occasion, it's a home run.
Author
Adina Moss
As the wife of a professional restauranteur, many a people have been confused on who is actually cooking dinner when they get to the Moss residence. Adina uses her Anova to step up her game, and provide professional results without being a professional.
Prep Time: 00:30
Recipe Time: 03:00
Temperature : 129F / 53.9C
Ingredients
Rack of Veal, 3-4 bones.
2 sprigs thyme
2 sprigs rosemary
2 cloves garlic, peeled
2 parsnips, peeled and diced
1 bulb fennel, chopped
1 bunch parsley, removed from stems
1 bunch mint, removed from stems
1 bunch basil, removed from stems
1 bunch dill, removed from stems
1 green apple, thinly sliced
1 red onion. chopped
6 tablespoons olive oil
2 tablespoons red wine vinegar
1/2 teaspoon lemon juice
Salt
Pepper
Directions
Set Anova Sous Vide Precision Cooker to 129°F / 53.9°C.
Place rack of veal into vacuum bag, or ziplock style bag. Add thyme, rosemary, garlic, and a drizzle of olive oil. Seal bag.
Place veal in water bath and cook for 3 hours.
Finishing Steps
While veal is cooking. Prepare parsnip puree and herb salad.
Place parsnip in pot with chopped fennel, and a little bit of water tll half way up the vegetables. Cook til soft. Strain in colander, make sure all the water comes out. Place in food processor and blend till creamy. Add salt to taste.
Add olive oil, red wine vinegar, and lemon juice to a bowl and whisk until combined.
Add herbs to bowl, fold in red onion and apple. Toss to combine. Dress with red wine vinaigrette.
When 3 hours has elapsed, remove rack of veal from bag. Dry off, and season with salt and pepper. Sear all sides in a hot cast-iron skillet until a golden crispy crusted has formed, about 5 minutes.
Carve veal between bones, place on parsnip puree alongside herb salad.