Sous Vide Vanilla Cake with Chocolate Frosting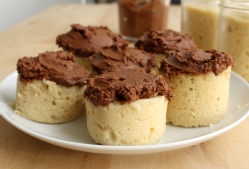 Everyone needs a good basic vanilla cake recipe. And why not a sous vide vanilla cake?

"Baking" the cake in the Anova Precision Cooker means you'll get a result that is tender and super moist, with no dry crumbles in sight. It's easy to make, too — just mix up the (mostly) one-bowl batter, divide it into jars, and sous vide for 3 hours.

You can also consider this recipe a base for experimentation — throw in some chocolate chips or fresh fruit to the batter for a twist on the classic. I've topped these cakes with an extra chocolate-y frosting that's reminiscent of those Duncan Hines boxed frostings (but much, much tastier).

Feel free to use your favorite chocolate frosting here instead — or skip the frosting all together and serve with fresh fruit.

Note: This recipe looks long, but it is actually not challenging to make — I have simply tried to break down the recipe into short, easy-to-follow steps.
Author
Kate Itrich-Williams
Prep Time: 00:30
Recipe Time: 03:00
Temperature : 195F / 90.6C
Ingredients
2 cups (232.5 grams) cake flour
1 teaspoon (5 grams) baking powder
1/2 teaspoon (3 grams) salt
1 stick (113 grams) unsalted butter, at room temperature
1 cup (198 grams) granulated sugar
2 large eggs, at room temperature
1 teaspoon (5 mL) vanilla extract
1 cup (237 mL) buttermilk, at room temperature
4 tablespoons (56.5 grams) unsalted butter
3 tablespoons (16.5 grams) cocoa powder
1/4 cup (60 mL) whole milk
1 teaspoon (5 mL) vanilla extract
2 1/2 cups (284 grams) confectioners' sugar
Directions
Set the Anova Sous Vide Precision Cooker to 195ºF (90.6ºC). Generously grease 7 half-pint canning jars with non-stick oil spray or butter.
For the cake: In a medium bowl, whisk together cake flour, baking powder, and salt. Set aside.
Combine butter and granulated sugar in the bowl of a stand mixer fitted with a paddle attachment. Beat the mixture on medium-high speed until light and fluffy, 3 to 5 minutes.
Beat in the egg one at a time until combined. Beat in tablespoon vanilla until smooth.
Remove the paddle attachment and place a fine-mesh strainer over the bowl. Sift one half of the flour mixture into the bowl. Return the paddle attachment and beat on low speed just until combined.
Add buttermilk and beat into the mixture on low speed until incorporated.
Remove the paddle attachment and place strainer over the bowl. Sift remaining flour mixture into the bowl. Return the paddle attachment and beat on low speed just until combined. Use a spatula to scrape down the sides of the bowl and fold in any stray flour.
Divide the batter between the prepared jars. Each jar should be no more than half full. Wipe off sides and tops of jars using a damp towel. Firmly tap jars on the counter to remove air bubbles.
Place lids and bands on jars and seal until just tight (do not over-tighten jars; air will still need to escape). Place jars in water bath and set the timer for 3 hours. Clean stand mixer.
While the cakes are cooking, prepare the frosting: Melt the butter in a small saucepan over medium heat. Remove from the heat and whisk in cocoa until smooth. Whisk in milk and vanilla until smooth.
Transfer butter mixture to stand mixer fitted with the paddle attachment. Sift confectioners' sugar through a fine mesh strainer into the bowl.
Starting on low speed and gradually increasing to high speed, beat butter-sugar mixture until smooth and significantly lightened in color, 3 to 5 minutes. The mixture will still be slightly runny. Transfer to the refrigerator and chill for 1 hour. (You can keep it in the mixer bowl.)
Return chilled frosting to the stand mixer and beat on high speed until very light and fluffy, about 1 minute. Refrigerate until ready to use.
Finishing Steps
When the timer goes off, remove the jars from the water bath. Place on a cooling rack. Carefully remove the lids. Let the cakes cool to room temperature.
When the cakes are cool, run a knife around the sides of the jars and carefully un-mold cakes. Using a very sharp knife, slice each cake in half horizontally to form cupcakes. Transfer to a serving platter and spread frosting on top of each cupcake. Serve.