Sous Vide Turkey Panini with Camembert and Apple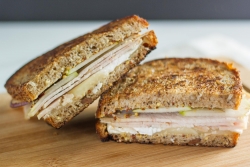 Looking for a delicious sandwich for your next lunch gathering? Look no further than this Sous Vide Turkey Panini with Camembert and Apple Slices. You'll have a bunch of happy guests (and leftover turkey).
Author
Emily Farris and Jeff Akin
Emily Farris and Jeff Akin are Feed Me Creative — a culinary content studio in Kansas City's historic West Bottoms that specializes in recipe development, food styling, and photography. (We're also really good eaters!)
Prep Time: 00:45
Recipe Time: 02:00
Temperature : 145F / 62.8C
Ingredients
1 boneless, skinless turkey breast half (about 2 pounds)
Kosher salt and freshly ground black pepper
4 slices whole-grain bread
4 tablespoons (59 ml) grainy mustard
4 tablespoons (59 ml) softened butter
1 Granny Smith apple, cored and thinly sliced
4 ounces Camembert (or Brie) cheese
Directions
Set the Anova Sous Vide Precision Cooker to 145ºF.
Season the turkey breast liberally with salt and pepper. Seal and cook for 2 hours.
Finishing Steps
Remove the turkey, cool in an ice bath, and refrigerate for at least 4 hours. This will make it easier to slice thinly, though you can slice warm if you prefer.
Slice the turkey breast thinly using a meat slicer or sharp carving knife.
To compose each sandwich, spread each slice of bread with butter on the exterior side and grainy mustard on the interior. On top of the mustard, layer two ounces of turkey, apple, and cheese. Top with the second piece of bread.
In a large non-stick skillet, or panini press, cook over medium heat until golden brown and the cheese melted.