Sous Vide Turkey and Wild Rice Soup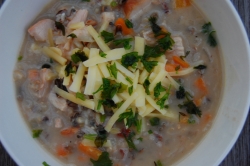 I created this after a visit to Minneapolis, Minnesota, where turkey and wild rice soup is a staple. This is sheer comfort food, and it couldn't be easier to create. I like to think of it as a pain-free dinner recipe, especially if I have leftover turkey and wild rice. To be perfectly honest, I have often chosen wild rice as a side dish on purpose just so I could make this soup the same week I have a turkey dinner. This recipe is absolutely perfect using the Anova Sous Vide. Create and enjoy!
Author
Barbara Freda
I grew up in a cooking family and after getting a degree in Spanish and Anthropology, realized what I really wanted to do was to go to culinary school. After working in a NYC bank for a few years, I managed to get to culinary school and got my first jobs in NYC kitchens, including a long stint at Union Square Cafe in its earliest years. After (sadly) leaving NYC, I realized I needed to step away from the 80-hour work weeks, so I left the heat of the kitchen for the cool of the computer keyboard: I started writing about food, the business of food, and technology in the food industry, as well as teaching cooking classes. Recipe development remains one of my top loves, and the opportunity to develop recipes for Anova has been fun every step of the way.
Prep Time: 00:35
Recipe Time: 03:00
Temperature : 131F / 55C
Ingredients
1/2 tablespoon unsalted butter
1/2 tablespoon extra virgin olive oil
1 cup chopped onion
2 carrots, diced
2 stalks celery, diced
4 sprigs fresh thyme
1 bay leaf
3 tablespoons all-purpose flour
1/4 cup sherry
1/4 cup heavy cream
4 cups turkey or chicken stock
Up to 1 cup leftover gravy, optional
1 tablespoon Worcestershire Sauce
8 ounces cooked turkey, diced
2 cups cooked wild rice or wild rice blend
Salt and freshly ground black pepper
2 ounces cheddar cheese, grated, for serving
Chopped fresh parsley, for serving
Directions
Set the Anova Sous Vide Precision Cooker to 131ºF (55ºC).
Heat butter and olive oil in a large saucepan over medium-high heat. Add onion, carrots, celery, thyme and bay leaf and cook until vegetables soften, about 5 minutes.
Sprinkle flour over vegetables and stir to coat. Cook, stirring constantly, for 1 minute.
Add the sherry and bring to a rapid simmer, scraping up any browned bits from the bottom of the saucepan. Add the cream and stir to combine.
Add stock, gravy (if using), and Worcestershire. Bring to a simmer and cook until mixture begins to thicken, about 5 minutes.
Stir in turkey and cooked wild rice.
Transfer soup mixture to a large zipper lock bag. Seal the bag using the water immersion technique. Place in the water bath and set the timer for 3 hours, or up to 10 hours.
Finishing Steps
When the timer goes off, remove the bag from the water bath. Season the soup with salt and pepper.
Ladle soup into 6 bowls. Garnish each serving with cheddar cheese and chopped parsley. Serve.
Soup can be refrigerated for up to 3 days or frozen for long-term storage.