Sous Vide Thai Steak Salad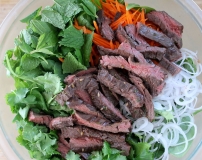 This zippy salad brings together perfectly cooked strip steak with plenty of greens and a fun, funky fish sauce dressing. It's hearty enough to eat as a main dish with a side of rice, noodles, or bread, and the vegetable additions are easily adaptable to suit your preference.
Author
Kate Itrich-Williams
Prep Time: 00:30
Recipe Time: 01:00
Temperature : 130F / 54.4C
Ingredients
2 shallots, one minced and one sliced into thin rings
1 tablespoon Chinese rice wine
1 tablespoon soy sauce
1 tablespoon minced cilantro stems
1–2 teaspoons minced fresh jalapeno
3 1/2 teaspoons fish sauce
1 inch fresh ginger, peeled and minced
1 medium clove garlic, minced
Kosher salt
1 (12-ounce) skirt steak, cut in half cross-wise to form two shorter steaks
1 (5-ounce box) mixed greens
1 carrot, peeled and sliced into thin strips
1/2 bunch cilantro leaves
1/2 bunch mint leaves, torn in half
3 tablespoons freshly squeezed lime juice
5 teaspoons grated palm sugar or packed dark brown sugar
1 tablespoon unseasoned rice vinegar
2 tablespoons extra-virgin olive oil
2 teaspoons vegetable oil
Directions
Set the Anova Sous Vide Precision Cooker to 130ºF (54.4ºC).
In a medium bowl, whisk together minced shallot, Chinese rice wine, soy sauce, cilantro stems, jalapeno, 1 1/2 teaspoons fish sauce, ginger, garlic, and 1/4 teaspoon kosher salt. Transfer to a large zipper lock bag with the steaks. Seal the bag using the water immersion method.
Place the bag in the water bath and set the timer for 1 hour or up to 4 hours.
While the steak is cooking, prepare the remaining salad ingredients: Place the thinly sliced shallot in a fine mesh strainer and rinse under cold water for 30 seconds to lessen pungency. Pat dry. Combine the shallot slices with the mixed greens, carrot, cilantro leaves, and mint leaves in a large bowl. Refrigerate until needed.
To make the dressing: Combine the lime juice, palm sugar, rice vinegar, remaining 2 teaspoons fish sauce, and remaining 1/2 teaspoon kosher salt in a small bowl or jar. Whisk until the sugar is dissolved. Slowly drizzle in olive oil, whisking constantly, until the dressing is emulsified. Refrigerate until needed.
Finishing Steps
When the 1 timer goes off, remove the bag from the water bath. Remove the steak from the bag and pat very dry with paper towels. Discard cooking liquid.
Heat the vegetable oil in a 12-inch skillet over medium-high heat. When the oil shimmers, add the steaks. Sear until well-browned, about 1 minute per side. Transfer to a cutting board and let rest for 5 minutes.
Slice the steak thinly across the grain. Add steak slices to the salad mixture, toss with dressing, and serve.