Sous Vide Thai Shrimp Curry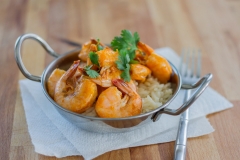 Thai is a pretty perfect cuisine. It blissfully combines carbs, protein, heat and sweetness in nearly every dish. This Sous Vide Thai Shrimp Curry is no exception — and with the Anova Sous Vide Precision Cooker, this easy Southeast Asian-inspired dinner is ready to eat in less than an hour.
Author
Emily Farris and Jeff Akin
Emily Farris and Jeff Akin are Feed Me Creative — a culinary content studio in Kansas City's historic West Bottoms that specializes in recipe development, food styling, and photography. (We're also really good eaters!)
Prep Time: 00:15
Recipe Time: 00:30
Temperature : 135F / 57.2C
Ingredients
1 pound medium or large tail-on shrimp, peeled and deveined
1/2 cup unsweetened coconut milk
2 tablespoons Thai red chili paste
1 tablespoon canola oil
Zest and juice of 1 lime
1 stalk lemongrass
1 inch fresh ginger, peeled
Kosher salt and freshly ground black pepper
Steamed basmati rice, for serving
Fresh cilantro leaves, for serving
Directions
Set the Anova Sous Vide Precision Cooker to 135ºF (57ºC).
Combine the shrimp, coconut milk, red chili paste, canola oil, lime zest, lime juice, lemongrass, ginger, 2 teaspoons salt, and 1 teaspoon pepper in a large zipper lock bag. Seal the bag using the water immersion technique and place in the water bath. Set the timer for 30 minutes, or up to 45 minutes.
Finishing Steps
When the timer goes off, remove the bag from the water bath. Transfer the contents of the bag to a serving bowl and season to taste with salt and pepper. Serve with rice and cilantro.