Sous Vide Thai Chicken Salad with Peanut Dressing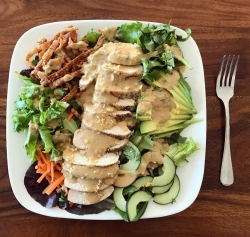 Bea is back to share her latest creation! She pairs some perfectly cooked sous vide chicken with a fresh spring salad mix, and tops it off with a super-easy and super-tasty peanut dressing.
Author
Bea Mendoza
Bea Mendoza is an #anovafoodnerd from Las Vegas who loves food, travel, and sous vide. As a nursing student, Bea admits that studying takes up the bulk of her time, and cooking at home can be difficult for her to fit into her routine. With Anova, it's easy for her to get her work done and still enjoy quality, home-cooked meals. She sets up Anova, drops her food in the water bath, and has her dinner going in minutes, giving her time to dives into her studies while her food cooks.
Prep Time: 00:30
Recipe Time: 01:00
Temperature Options:
Tender and juicy

150F / 65.6C
Ingredients
4 chicken breasts
1 bag salad mix (your choice!)
1 bunch cilantro
2 cucumbers
2 carrots
1 package wonton wrappers
Oil for frying
1/4 cup peanut butter
juice of 1 lime
2 tbsp chopped cilantro
3 cloves garlic
2 tbsp fresh ginger
1/2 cup water
2 tbsp rice vinegar
1 tbsp soy sauce
1 tsp fish sauce
1 tsp sesame oil
3 tbsp canola oil
Directions
Set Anova Sous Vide Precision Cooker to 150°F / 65.5°C
Season chicken generously with salt and pepper. Vacuum seal or place in ziplock bag.
Place in water bath and cook for 1 hour.
While chicken is cooking, dice cucumbers, shred carrots, and chop cilantro. Combine with salad mix.
Fill a deep pot with oil, 1/2 way up. Bring temp to 350°F / 177°C. Cut wonton wrappers into ribbons and fry until crispy.
Combine peanut butter, lime juice, chopped cilantro, garlic, fresh ginger, water, rice vinegar, soy sauce, fish sauce, sesame oil, and canola oil in a food processor or blender and blend until smooth and creamy.
Stovetop Finish
Sear chicken in a hot skillet for 30 seconds a side until just browned.
Add wonton strips to salad mix. Toss to combine.
Slice and layer chicken over salad, and top with dressing and devour this delicious dish!