Sous Vide Szechuan-Style Green Beans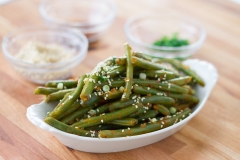 Szechuan green beans are traditionally "dry-fried," but when we've made them in the past, we've had to blanch them before pan frying to maintain their color, and they always seem to get over-cooked at some point on the stove. Though not entirely authentic, this easy recipe for Sous Vide Szechuan Style Green Beans solves those problems, simplifies the process, and calls for our (okay, everyone's) favorite Thai chili paste, Sriracha. This is definitely our new go-to spicy snack. We like a little crunch left in our cooked green beans, so these are perfect when cooked with the Anova Sous Vide Precision Cooker for 45 minutes at 186°F (86°C). But if you prefer a little tenderness, leave them in for an hour.
Author
Emily Farris and Jeff Akin
Emily Farris and Jeff Akin are the co-founders of Feed Me Creative, a former culinary creative agency in Kansas City, MO.
Prep Time: 00:15
Recipe Time: 00:45
Temperature : 186F / 85.6C
Ingredients
12 ounces green beans
1 tablespoon Sriracha chili sauce
1 tablespoon red chili flakes
1 tablespoon dried onion
1 teaspoon toasted sesame oil
1/2 teaspoon garlic salt
1 tablespoon toasted sesame seeds, for serving
Chopped scallions, for serving
Directions
Preheat the Anova Sous Vide Precision Cooker to 186°F (86°C).
Combine the beans, Sriracha, chili flakes, minced onions, sesame oil, and garlic salt in a large zipper lock or vacuum seal bag. Shake to combine. Seal the bag using the water immersion technique or vacuum sealer on the moist setting, taking care that the beans are in one single layer.
Place the bag in the water bath and set the timer for 45 minutes, or up to 1 hour.
Finishing Steps
When the timer goes off, remove the bag from the water bath. Remove the beans to a serving dish and garnish with toasted sesame seeds and chopped green onions. Serve.