Sous Vide Sweet Potato Fries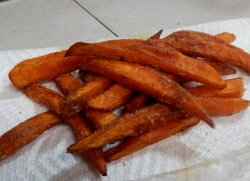 I'll admit I've never been a big sweet potato guy; that is, until I had them cooked to precision. This recipe is absolutely amazing and is the perfect accompaniment to a main dish for a quick dinner. To make compound butter, combine 4 tablespoons softened unsalted butter and 1 tablespoon maple syrup in a small bowl. Mash with a fork until the maple syrup is evenly mixed into the butter. Season to taste with salt.
Author
Mike Castaneda
Christian. Disabled veteran. Father. Named "One of the 10 best cooks in America" by Food Network, World Food Championship Qualified.
Prep Time: 00:25
Recipe Time: 00:45
Temperature : 183F / 83.9C
Ingredients
2 large sweet potatoes, peeled and sliced into 1/4-inch-thick batons
Vegetable oil, for frying
2 tablespoons brown sugar
Salt and freshly ground black pepper
Maple compound butter, for serving (optional; see note)
Directions
Set the Anova Sous Vide Precision Cooker to 183ºF (83ºC).
Place potatoes in a large zipper lock or vacuum seal bag. Seal the bag using the water immersion technique or a vacuum sealer on the dry setting.
Place the bag in the water bath and set the timer for 45 minutes.
About 10 minutes before the sweet potatoes are finished, pour 2 inches of oil into a large Dutch oven. Heat oil to 375ºF over medium-high heat.
Finishing Steps
When the timer goes off, remove the bag from the water bath. Remove the sweet potatoes and gently pat dry with paper towels.
Carefully transfer sweet potatoes to the hot oil and fry until golden and crisp, 4 to 5 minutes.
Using a slotted spoon, transfer fries to a paper towel-lined plate and immediately season with brown sugar, salt, and pepper. Serve with maple compound butter, if desired.