Sous Vide Steel-Cut Oats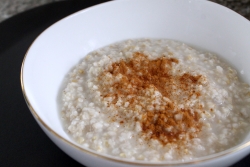 Steel cut oats are one of my favorite breakfasts when the weather turns cold. Like other creamy porridges, these nutty oats benefit from a long, slow cooking time. By using the Anova Sous Vide Precision Cooker, you can maximize the oats cooking time while minimizing your overall work. The oats will cook in two hours at 180 degrees; you can also set the oats up for an overnight cook by turning the temperature down to 155 degrees.Enjoy!
You can also cook this recipe in one pint-sized canning jar. Place the ingredients in the jar instead of placing them in the zipper lock bag in step 2.

Author
Kate Itrich-Williams
Prep Time: 00:05
Recipe Time: 03:00
Temperature : 180F / 82.2C
Ingredients
2 cups water
1/2 cup steel-cut oats
1/2 teaspoon salt
Optional toppings: cinnamon, butter, maple syrup, dried fruit, yogurt
Directions
Set the Anova Sous Vide Precision Cooker to 180ºF (82ºC). (Alternatively, if you'd like to cook the oats overnight, set the Anova Sous Vide Precision Cooker to 155ºF (68.3ºC).)
Combine all ingredients in a large zipper lock bag. Seal the bag using the water immersion technique. Place the bag in the water bath and set the timer for 3 hours. (If you're cooking the oats overnight, set the timer for anywhere between 8 and 10 hours.)
Finishing Steps
When the timer goes off, remove the bag from the water bath, transfer oats to a serving bowl, and serve with desired toppings.