Sous Vide Steak Tacos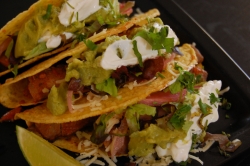 You can cook the steak just for this recipe OR you can make sure you have leftover steak, as I often do — I cook for four (usually) and I may have only one tester show up to help evaluate what's been cooked. Steak tacos have become a go-to lunch for the day after any steak testing gets done. Either way — as your main meal or as a leftover lunch — these are tacos "gone to college."
Author
Barbara Freda
I grew up in a cooking family and after getting a degree in Spanish and Anthropology, realized what I really wanted to do was to go to culinary school. After working in a NYC bank for a few years, I managed to get to culinary school and got my first jobs in NYC kitchens, including a long stint at Union Square Cafe in its earliest years. After (sadly) leaving NYC, I realized I needed to step away from the 80-hour work weeks, so I left the heat of the kitchen for the cool of the computer keyboard: I started writing about food, the business of food, and technology in the food industry, as well as teaching cooking classes. Recipe development remains one of my top loves, and the opportunity to develop recipes for Anova has been fun every step of the way.
Prep Time: 00:15
Recipe Time: 00:45
Temperature : 134.6F / 57C
Ingredients
2 (10-ounce) boneless sirloin steaks
2 tablespoons chili powder
1 tablespoon paprika
1 tablespoon smoked paprika
1 tablespoon ground cumin
1 teaspoon ancho chile powder
1 teaspoon ground coriander
1 teaspoon oregano
1 teaspoon onion flakes
1/2 teaspoon garlic powder
1/2 teaspoon celery salt
4 tablespoons salsa
1 tablespoon masa harina (optional, but helps thicken sauce)
12 hard taco shells
1/2 cup shredded lettuce
2 ounces cheddar cheese, shredded
1/4 cup sliced red onion
1/4 cup guacamole
1/4 cup sour cream
Chopped fresh cilantro
Lime wedges
Directions
Set the Anova Sous Vide Precision Cooker to 134ºF (57ºC).
Prepare the taco seasoning: Mix together chili powder, paprika, cumin, ancho chile powder, coriander, oregano, onion flakes, garlic powder, and celery salt in a small bowl.
Pat steaks dry and season with 1 tablespoon taco seasoning. (Store unused taco seasoning in an airtight container at room temperature.)
Place each steak in its own medium zipper lock or vacuum seal bag. Seal the bags using the water immersion technique or a vacuum sealer on the dry setting.
Place the bags in the water bath and set the timer for 45 minutes.
Finishing Steps
When the timer goes off, remove the bags from the water bath. Remove the steaks from the bag and pat dry. Slice across the grain into 1/4-inch-thick slices.
Place sliced steak in a large nonstick skillet over medium heat with the salsa and masa harina, if using. Bring to a gentle simmer and stir to heat through.
Warm taco shells according to package directions. Serve steak in shells with lettuce, cheese, onion, guacamole, sour cream, cilantro, and lime wedges.