Sous Vide Southern Sweet Potatoes with Pecans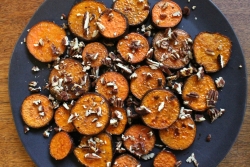 Southern sweet potatoes are typically doused in a generous amount of maple syrup and brown sugar and topped with even sweeter marshmallows. But sweet potatoes are candy-like even without all of that additional sugar. The long, slow process of precision cooking helps further concentrate the sweetness of the potatoes, mimicking the flavor of southern-style casseroles. A sprinkling of pecans adds a nutty finishing touch.
Author
Kate Itrich-Williams
Prep Time: 00:45
Recipe Time: 03:00
Temperature : 145F / 62.8C
Ingredients
1 pound sweet potatoes, sliced into 1/4-inch-thick rounds
1/2 teaspoon kosher salt
1/4 cup pecans
1 tablespoon unsalted butter
Directions
Set the Anova Sous Vide Precision Cooker to 145ºF (62ºC).
Combine sweet potatoes and salt in a large zipper lock or vacuum seal bag. Seal the bag using the water immersion technique or a vacuum sealer on the dry setting.
Place the bag in the water bath and set the timer for 3 hours. If using a zipper lock bag, you may need to weigh down the bag to keep the sweet potatoes submerged.
Meanwhile, toast the pecans in a dry skillet over medium heat until golden brown. Transfer toasted pecans to a cutting board and coarsely chop. Set aside.
About 10 minutes before the sweet potatoes are finished, heat the oven to 375ºF. Line a rimmed baking sheet with parchment paper. Melt the butter in a small saucepan or in the microwave; keep warm.
Finishing Steps
When the timer goes off, remove the bag from the water bath. Transfer the sweet potato rounds to a medium bowl and toss with the melted butter. Spread sweet potato rounds on baking sheet. Bake until golden brown and tender, 20 to 30 minutes, flipping potato rounds halfway through baking.
Transfer potatoes to a serving platter and sprinkle with toasted pecans. Serve.