Sous Vide Southern-Style Collards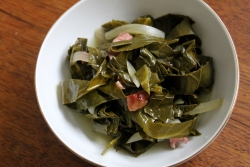 Slow-cooked, Southern-style collards are tailor-made for the Anova Precision Cooker. When prepared in the traditional manner, collards require an abundance of liquid, which draws out much of the nutrients in the greens. Cooking sous vide, however, allows for a much smaller amount of cooking liquid, yielding a potent, rich pot liquor and nutrient-filled greens.
Author
Kate Itrich-Williams
Prep Time: 00:20
Recipe Time: 05:00
Temperature : 183F / 83.9C
Ingredients
1 large bunch collard greens
1 cup vegetable broth, chicken broth, water, or a combination
1/2 onion, thinly sliced
4 ounces smoked ham hock or bacon
Kosher salt
Apple cider vinegar, to taste
Directions
Set the Anova Sous Vide Precision Cooker to 183ºF (83ºC).
To prepare the collards, first remove the rib from each leaf and discard. Stack the leaves on top of each other and roll into a cylinder. Slice the cylinder into 1/2 inch thick pieces. Unroll the collard leaves and transfer to a large zipper lock bag.
Add the broth, onion, ham hock, and 1/2 teaspoon salt. Seal the bag using the water immersion technique.
Place the collards in the water bath and set the timer for 5 hours. You may need to weigh down the bag to keep the collards submerged.
Finishing Steps
When the timer goes off, remove the bag from the water bath. Transfer the entire contents of the bag to a serving bowl.
Remove the ham hock from the bowl. Using a fork or sharp knife, remove any meat off of the hock and shred or chop into bite sized pieces. Discard excess fat, skin, and bones. Stir meat into collards.
Season the collards to taste with salt and apple cider vinegar. Serve.