Sous Vide Shepherd's Pie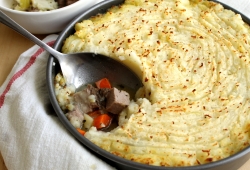 One of my favorite fall dishes is this comforting, hearty shepherd's pie. It's always a bit of a project, but it is totally worth the effort. Up your shepherd's pie game by cooking the lamb sous vide; not only does it emerge perfectly cooked, it also is infused with the flavors of garlic, rosemary, and thyme.

You'll need to cook the vegetables on the side, but once everything is prepared, the final dish takes only a few minutes to assemble and broil. This recipe is written to serve a crowd, but you can cut it in half if desired. Use one cake pan. You can also cook the lamb to medium-rare instead of medium; in that case, set the Precision Cooker to 130ºF (54.4ºC).
Author
Kate Itrich-Williams
Prep Time: 01:00
Recipe Time: 24:00
Temperature : 140F / 60C
Ingredients
2 pounds (907 g) boneless lamb leg
Salt and freshly ground black pepper
4 cloves (15 g) garlic, peeled and smashed
1 sprig (3 g) fresh thyme, leaves removed from stem, plus 2 tablespoons (6 g) chopped
1 sprig (3 g) fresh rosemary, leaves removed from stem, plus 1 tablespoon (4 g) chopped
2 tablespoons (30 mL) extra virgin olive oil
4 carrots (360 g), peeled and chopped
2 parsnips (280 g), peeled and chopped
4 celery stalks (213 g), chopped
1 medium onion (188 g), chopped
2 tablespoons (15 g) all-purpose flour
4 cups (960 mL) chicken stock
4 medium russet potatoes (about 1 kg), peeled and quartered
4 tablespoons (56.5 g) unsalted butter, at room temperature
1/2 cup (120 mL) whole milk, at room temperature
Directions
Set the Anova Sous Vide Precision Cooker to 140ºF (60ºC).
Season the lamb with salt and pepper. Place in a large zipper lock or vacuum seal bag with the garlic, whole thyme leaves, and whole rosemary leaves. Seal the bag using the water immersion technique or a vacuum sealer on the dry setting.
Place the bag in the water bath and set the timer for 24 hours. Cover the water bath with plastic wrap to minimize evaporation. You may need to add water periodically to keep the lamb submerged.
Meanwhile, prepare the vegetables: Heat olive oil in a large pot or Dutch oven over medium-high heat. When the oil is shimmering, add the carrots, parsnips, celery, and onion. Season with salt. Cook, stirring occasionally, until onions are translucent, about 10 minutes.
Add the flour, chopped thyme, and chopped rosemary. Cook, stirring constantly, for 1 minute. Slowly stir in chicken stock.
Increase the heat to high and bring to a rapid simmer. Reduce the heat to medium-low and cook, stirring occasionally, until vegetables are fully softened, about 10 minutes. Remove from the heat and let cool. Cover and refrigerate until the lamb is finished.
While the vegetables are cooking, prepare the mashed potatoes: Place potatoes in a large pot and cover with cold salted water. Bring to a rapid boil. Continue to boil until potatoes are fully softened, 20 to 30 minutes.
Drain potatoes and return to the pot. Remove from the heat. Add the butter and mash potatoes with a potato masher until smooth. Stir in the milk. Season to taste with salt and pepper. Refrigerate until the lamb is finished.
Finishing Steps
When the timer goes off, remove the bag from the water bath. Remove the lamb from the bag and discard garlic, herbs, and any cooking liquid. Slice the lamb into large dice.
Return vegetable mixture to a gentle simmer over medium-high heat. Reheat potatoes in the microwave until warm. Heat broiler to high.
Stir lamb into the vegetable mixture. Remove from the heat. Divide vegetable mixture between two 9-inch cake pans or a large broiler-safe baking dish.
Top lamb-vegetable mixture with potatoes. Spread gently to cover the entire pan. Use the tines of a fork to draw concentric circles on top of the potatoes.
Broil pies until the tops of the potatoes are well-browned, 4 to 5 minutes. Serve.