Sous Vide Sea Scallops with Meyer Lemon Glaze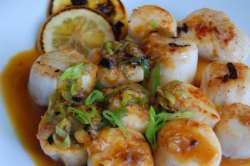 These sea scallops get a light, citrus glaze to make the recipe absolutely perfect. They cook with a bit of zest, and we finish with a tart/sweet citrus glaze
Author
Barbara Freda
I grew up in a cooking family and after getting a degree in Spanish and Anthropology, realized what I really wanted to do was to go to culinary school. After working in a NYC bank for a few years, I managed to get to culinary school and got my first jobs in NYC kitchens, including a long stint at Union Square Cafe in its earliest years. After (sadly) leaving NYC, I realized I needed to step away from the 80-hour work weeks, so I left the heat of the kitchen for the cool of the computer keyboard: I started writing about food, the business of food, and technology in the food industry, as well as teaching cooking classes. Recipe development remains one of my top loves, and the opportunity to develop recipes for Anova has been fun every step of the way.
Prep Time: 00:10
Recipe Time: 00:30
Temperature : 122F / 50C
Ingredients
2 pounds (1 kilo) sea scallops, muscle removed
2 Meyer lemons
Salt and Pepper to taste
2 tablespoons (56g) butter
2 tablespoon (14g) finely chopped scallions, white and green parts separated, greens reserved for garnish
Pinch red chile flakes
4 tablespoons (59ml) dry sherry
½ cup (118ml) orange juice
2 teaspoons honey (optional: taste to adjust)
Directions
Heat water to 122ºF/50ºC using Anova Precision Cooker.
While water heats, place 1 pound (.5 kilo) scallops into each of two zip-close plastic bags with 2 slices Meyer lemon per bag and salt and pepper. Seal bag using water immersion method to create vacuum and place in heated water. Cook 30 minutes.
While scallops cook, make sauce. Heat butter in skillet over medium-high heat. Add white part of scallion with chile flakes and cook until soft. Remove scallion from skillet and set aside. Zest Meyer lemon and reserve zest for later. Squeeze juice out of Meyer lemon. Add enough orange juice to this to get 2/3 cup liquid.
Finishing Steps: Stovetop
Remove scallops from hot water. Remove scallops from bag and pat dry. Heat skillet again over high heat—there will be enough butter still in skillet from cooking scallions. Gently place scallops into skillet and sear 90 seconds on 1 side only.
Remove scallops from skillet. Deglaze skillet with sherry. Add Meyer lemon juice/orange juice mixture and some of Meyer lemon zest. Stir sautéed white scallions back in to juice. Bring to boil and cook, reducing until thick and glaze-like. Taste. If too tart, add honey, 1 teaspoon at a time.
Plate scallops seared side up. Sauce with Meyer lemon sauce. Garnish with green scallions and additional zest. Serve immediately.