Sous Vide Sea Bass with Romesco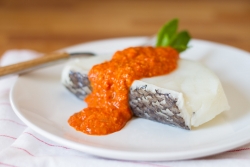 This quick and easy sous vide sea bass is perfect when served with romesco, a pepper and nut-based Spanish sauce. An easy win for a great dinner.
Author
Emily Farris and Jeff Akin
Emily Farris and Jeff Akin are Feed Me Creative — a culinary content studio in Kansas City's historic West Bottoms that specializes in recipe development, food styling, and photography. (We're also really good eaters!)
Prep Time: 00:15
Recipe Time: 00:30
Temperature : 130F / 54.4C
Ingredients
2 (6-ounce) sea bass fillets
Kosher salt and freshly ground black pepper
1 cup (237 ml) roasted red peppers
1/2 cup (118 ml) toasted almonds
1/4 cup (59 ml) extra virgin olive oil
1/4 cup (59 ml) sherry vinegar
3 tablespoons (30 ml) tomato paste
2 cloves garlic, minced
Directions
Set the Anova Sous Vide Precision Cooker to 130°F (54.4°C).
Season the sea bass with salt and pepper. Place in a medium zipper lock or vacuum seal bag. Seal the bag using the water immersion technique or a vacuum sealer on the moist setting. Place the bag in the water bath and set the timer for 30 minutes.
In a food processor, pulse the peppers, almonds, olive oil, vinegar, tomato paste, and garlic until well blended. Season to taste with salt and pepper. Set aside for serving.
Finishing Step
When the timer goes off, remove the bag from the water bath. Remove the fish from the bag and pat dry. Serve topped with romesco sauce.