Sous Vide Savory Pumpkin Flans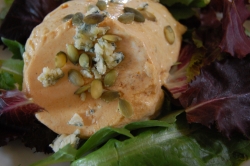 This simple custard makes a salad heartier—hearty enough for a lunch main course or a light supper. Don't skip the blue cheese and pumpkin seed garnish, as these add salty goodness and create a great texture.
Author
Barbara Freda
I grew up in a cooking family and after getting a degree in Spanish and Anthropology, realized what I really wanted to do was to go to culinary school. After working in a NYC bank for a few years, I managed to get to culinary school and got my first jobs in NYC kitchens, including a long stint at Union Square Cafe in its earliest years. After (sadly) leaving NYC, I realized I needed to step away from the 80-hour work weeks, so I left the heat of the kitchen for the cool of the computer keyboard: I started writing about food, the business of food, and technology in the food industry, as well as teaching cooking classes. Recipe development remains one of my top loves, and the opportunity to develop recipes for Anova has been fun every step of the way.
Prep Time: 00:10
Recipe Time: 03:00
Temperature : 176F / 80C
Ingredients
1 cup (250ml) milk
2 cups (500ml) half & half
2/3 cup (188g) canned pumpkin puree
1 whole egg
4 egg yolks
1 teaspoon (2g) ground ginger
1 teaspoon (6g) salt
1 sprig fresh rosemary, chopped
3 ounces (84g) blue cheese, crumbled
Toasted pepitas (shelled pumpkin seeds) for garnish
Sea salt for garnish
Directions
Heat water to 176ºF/80ºC using Anova Precision Cooker.
While water heats, mix milk, half & half, pumpkin, egg, yolks, ginger, salt, and rosemary. Whisk until smooth. Divide among 6 containers you can seal (small mason jars or wide-mouthed jam jars for example), pouring 6 ounces (177ml) into each jar. Seal jars tightly.
Carefully place jars into hot water. Place on rack and weight them down or you can try just floating them in the water, which they will do if well sealed. Cook 3 hours, until set. They will look slightly "jiggly." If the flans look liquid-y, cook another hour. Remove from water, cool 30 minutes, then cool overnight in refrigerator.
Finishing Step: To Serve
To serve, top each with ½ ounce (14g) blue cheese, pepitas, and a sprinkling of coarse sea salt. If you want to, invert (gently!) each custard onto salad, then top with blue cheese and sea salt.