Sous Vide Salmon with Wilted Spinach and Dijon Cream Sauce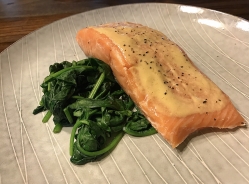 Tender and flaky salmon, easier than ever. The salmon requires no finishing. Remove from the bag and it's ready to eat. Serve a dinner worth talking about, and actually enjoy the process. Anova makes delicious results more accessible than they ever have been.
Author
Cole Wagoner
Cole Wagoner developed a deep appreciation and high expectations for the quality of food during his years living in Portland, a city with some serious food game. When Cole met the girl of his dreams, he followed her across the country from his beloved home state of Oregon, to a small town in Alabama. The only thing missing seemed to be the glorious abundance of grub he'd previously enjoyed, which took a bit more of a drive to find in his new neck of the woods. So began Cole's journey for the perfect kitchen tool companion to help him recreate food experiences from the comfort of his home, while snapping epic food photos along the way, and that journey has ultimately landed him in the Anova Kitchen
Prep Time: 00:15
Recipe Time: 00:45
Temperature Options:
Medium rare - 1" or less - Soft and buttery

115F / 46.1C
Ingredients
4 salmon filets, skinless
1 large bunch of spinach
½ cup of dijon mustard
1 cup heavy cream
1 tablespoon lemon juice
Salt and pepper to taste
Directions
Set Anova Sous Vide Precision Cooker to 115°F / 46.1°C
Season salmon with salt
Place in resealable ziplock bag. Place in water bath and cook for 45 minutes.
Finishing Steps
Heat pan over medium heat and add spinach. Cook until wilted and soft. Add lemon juice, salt, and pepper. Keep over very low heat until serving.
Place saucepan over medium heat and add heavy cream and dijon mustard. Bring to a boil, reduce heat, and whisk to combine. Add salt and pepper to taste.
Remove salmon from bags and pat dry.
Serve on top of spinach, and drizzle dijon sauce over salmon to enjoy!