Sous Vide Salmon with Sweet Potato Puree, Rainbow Chard, and Roasted Radish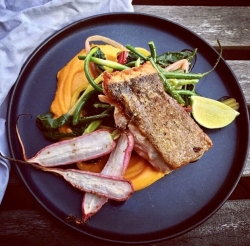 Want a quintessential bite of summer? Search no further. Adina Moss' recipe for buttery and flaky salmon served with a creamy sweet potato puree and delicious greens will have you and your friends raving. The salmon is cooked perfectly with the Anova Sous Vide Precision Cooker, ensuring the meal comes together with no hassle.
Author
Adina Moss
As the wife of a professional restauranteur, many a people have been confused on who is actually cooking dinner when they get to the Moss residence. Adina uses her Anova to step up her game, and provide professional results without being a professional.
Prep Time: 00:30
Recipe Time: 01:00
Temperature Options:
Medium rare - Very supple and juicy - Soft and buttery

122F / 50C
Ingredients
2 skin on salmon filets
Olive oil
2 sprigs thyme
4 cloves garlic
3 sweet potatoes
1/4 cup coconut milk
1 bunch rainbow chard
1 small knob ginger, grated
Soy sauce to taste
1 Bunch radish
Flaky sea salt
Directions
Set Anova Sous Vide Precision Cooker to 122°F / 50°C
Add salmon to ziplock style bag. Add two cloves garlic, thyme, and olive oil to bag.
Using water displacement method, submerge salmon in water bath. Sous vide 1 hour.
Finishing Steps
Sweet Potato Coconut Puree:
Wrap sweet potatoes in foil.
Roast in a 375°F / 190°C oven for 45 minutes, until soft. Note: You can also cook with Anova at 185°F / 85°F for 1 hour, if cubed.
Cut sweet potatoes in half, scoop out insides.
Add sweet potato flesh to blender with coconut milk and blend. Season to taste with salt and pepper
Rainbow Chard:
Steam rainbow chard for 3 minutes.
In a separate pan add olive oil, minced garlic, and grated ginger. Add chard, with soy sauce and sauté until softened.
Roasted Radish:
Cut radishes in half. Drizzle with olive oil and sprinkle with salt. Roast in 375°F / 190°C oven for 30 minutes.
Finishing Steps:
When cooking time on salmon has elapsed, remove salmon carefully from bag. Season with salt. Sear in a hot pan, skin side down, until skin is crispy.
Place sweet potato onto plate, pile chard on top, and place salmon on top. Scatter plate with roasted radish and enjoy!