Sous Vide Salmon with Romaine Dressing and Grilled Veggie Salad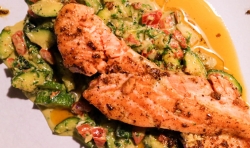 This super-easy make ahead recipe will take dinner to the next level with minimal effort. In less than 30 minutes you can have a wicked-delicious salmon dish on the table that's perfectly cooked and mouth-watering.
Author
Nick Roush
Serving up some of Dallas/Fort Worth's best sous vide eats, Nick Roush is one of our favorite #anovafoodnerds! Constantly cranking out delicious food with the aid of Anova, and sharing his best recipes with all of us!
Prep Time: 01:00
Recipe Time: 00:25
Temperature Options:
Medium rare - Soft and buttery

113F / 45C
Ingredients
2 salmon filets
1/3 cup olive oil
3 cups water
3 tablespoons salt
1.5 tablespoons sugar
3 tablespoons butter
1 large red bell pepper
1 large zucchini
1/4 of a sweet onion
Pickled mustard seeds to taste
Salt to taste
Pepper to taste
2 large eggs
1 cup romaine lettuce
1/3 cup chives
1.5 cups mint leaves
1/4 cup basil
1/4 cup buttermilk
1/2 cup grated parmesan cheese
3 anchovy filets
3 tablespoons olive oil
Lemon juice to taste
Salt to taste
Directions
Brine salmon. Combine water, salt, and sugar. Add salmon to brine, cover, and refrigerate for minimum of 5 hours, and up to 24 hours.
Romaine dressing (can be made up to two days in advance)
Set Anova Sous Vide Precision Cooker to 154°F / 67.8°C and cook 2 eggs for 40 minutes. Shock in ice water, and peel.
Bring a pot of water to boil and blanch romaine, basil, mint, and chives for 1 minute, and shock in ice water.
Add eggs, romaine, basil, mint, chives, parmesan cheese, buttermilk, anchovy filets, and lemon juice to blender and blend until smooth. Slowly add olive oil during blending.
Veggie Salad (to be served cold, can be made two days in advance)
Coat zucchini, onion, and bell pepper with olive oil, salt, and pepper, and grill or roast until nice and browned.
Let everything cool down. Dice onion, pepper. Slice zucchini into thin slices. Combine with pickled mustard seeds, salt and pepper, and refrigerate.
Salmon:
Set Anova Sous Vide Precision Cooker to 113°F / 45°C
Bag up salmon, add olive oil. Cook for 25 minutes.
Finishing Steps
While the salmon is cooking, assemble salad. Combine grilled veggie salad with 1/3 cup of dressing. Adjust as desired!
Get a pan hot over medium-low heat, add butter until it starts to foam. Remove salmon from bag, and gently sear for about 45 seconds skin side down.
Plate salad up, and add that delicious buttery salmon right on top. For an added flavor punch, drizzle the butter from the pan over the top, and devour!