Sous Vide Roast Lemon Chicken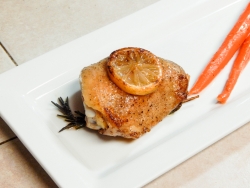 Doesn't this look delicious? I was craving a nice, hearty meal one afternoon, so I went with the classic roast chicken with a side of carrots. All sous vide — and all perfect.
Author
Mike Castaneda
Christian. Disabled veteran. Father. Named "One of the 10 best cooks in America" by Food Network, World Food Championship Qualified.
Prep Time: 00:10
Recipe Time: 01:30
Temperature : 140F / 60C
Ingredients
4 bone-in, skin-on chicken thighs
Salt and freshly ground black pepper
2 sprigs rosemary
1 lemon, thinly sliced
1 tablespoon unsalted butter
Directions
Set the Anova Sous Vide Precision Cooker to 140ºF (60ºC).
Generously season the chicken with salt and pepper and place in a large zipper lock or vacuum seal bag. Add 1 rosemary sprig. Seal the bag using the water immersion technique or a vacuum sealer on the moist setting.
Place the bag in the water bath and set the timer for 1 1/2 hours.
Finishing Steps
When the timer goes off, remove the bag from the water bath. Remove the chicken from the bag and pat dry with paper towels. Discard rosemary and cooking liquid. Heat broiler to high.
Melt butter in a large oven-proof skillet over medium-high heat. When the butter stops foaming, add the chicken, skin-side down, the lemon slices, and the remaining rosemary.
Let chicken sear, without moving, until skin begins to brown, 2 to 3 minutes. Flip chicken and transfer skillet to the broiler.
Broil until skin is crisp and brown, 2 to 3 minutes. Transfer chicken to a serving platter and top with rosemary and lemon slices from the pan. Serve with your choice of vegetable.