Sous Vide Risotto with Porcini Mushrooms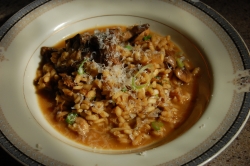 Risotto cooked on the stovetop requires constant stirring and attention — that's where sous vide comes in. The end result? Put your feet up (or make a salad and enjoy a glass of wine) while the risotto cooks sous vide. Porcini mushrooms are typically found dried and require reconstituting — pour boiling water over the dried mushrooms, let them soak about 30 minutes, then lift the mushrooms out of the soaking water and strain the soaking water (you'll get small bits of debris) and use that flavorful water in your cooking with the mushrooms, as we do here.
Author
Barbara Freda
I grew up in a cooking family and after getting a degree in Spanish and Anthropology, realized what I really wanted to do was to go to culinary school. After working in a NYC bank for a few years, I managed to get to culinary school and got my first jobs in NYC kitchens, including a long stint at Union Square Cafe in its earliest years. After (sadly) leaving NYC, I realized I needed to step away from the 80-hour work weeks, so I left the heat of the kitchen for the cool of the computer keyboard: I started writing about food, the business of food, and technology in the food industry, as well as teaching cooking classes. Recipe development remains one of my top loves, and the opportunity to develop recipes for Anova has been fun every step of the way.
Prep Time: 01:00
Recipe Time: 00:45
Temperature : 181.4F / 83C
Ingredients
1/2 ounce dried porcini mushrooms
1 1/2 teaspoons extra virgin olive oil
1 1/2 tablespoons unsalted butter
1/2 cup chopped onion
8 ounces white mushrooms, thinly sliced
1 cup Arborio rice
1/2 cup dry white wine
2 cups beef stock
1/3 cup Parmesan cheese, plus extra for serving
1/4 cup chopped scallions
Directions
Set the Anova Sous Vide Precision Cooker to 181ºF (83ºC).
Place porcini mushrooms in a small bowl and top with 1/2 cup boiling water. Let soak for 30 minutes. Remove mushrooms and roughly chop. Strain soaking water through a fine-mesh strainer. Reserve.
Heat 1/2 tablespoon butter and olive oil in a large skillet over medium-high heat. Add the white mushrooms and onion and cook, stirring frequently, until mushrooms have released their liquid and the liquid has evaporated, about 10 minutes.
Stir in Arborio rice and cook for 1 minute. Add white wine and reserved porcini soaking liquid. Bring to a rapid simmer and cook until liquid is almost completely evaporated.
Stir in chopped porcini and remove from heat. Transfer rice mixture to a large zipper lock bag. Add the stock and seal the bag using the water immersion technique.
Place the bag in the water bath and set the timer for 45 minutes.
Finishing Steps
When the timer goes off, remove the bag from the water bath. Taste the rice; if it is not quite tender, return to the water bath for 5 minutes. Repeat until rice is cooked. When rice is tender, empty the entire contents of the bag into a large bowl. Stir in remaining tablespoon butter, 1/3 cup grated Parmesan and green onions. Use a fork to fluff rice.
Serve topped with extra grated Parmesan.