Sous Vide Red Wine Poached Pears with Cream Cheese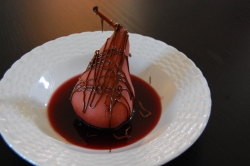 Red wine poached pears looks like jewels on a glass plate. Pears are easy to find year round, so this recipe can always be in season.
Author
Barbara Freda
I grew up in a cooking family and after getting a degree in Spanish and Anthropology, realized what I really wanted to do was to go to culinary school. After working in a NYC bank for a few years, I managed to get to culinary school and got my first jobs in NYC kitchens, including a long stint at Union Square Cafe in its earliest years. After (sadly) leaving NYC, I realized I needed to step away from the 80-hour work weeks, so I left the heat of the kitchen for the cool of the computer keyboard: I started writing about food, the business of food, and technology in the food industry, as well as teaching cooking classes. Recipe development remains one of my top loves, and the opportunity to develop recipes for Anova has been fun every step of the way.
Prep Time: 00:25
Recipe Time: 01:30
Temperature : 175F / 79.4C
Ingredients
4 firm pears
2 cups (473ml) red wine
4 whole cloves
2 strips lemon peel
1 cinnamon stick
2 cardamom pods
1 cup (225g) sugar
1/2 cup (88g) whipped cream cheese
1.5 tablespoons (85) honey
1/2 teaspoon (4g) vanilla
1 teaspoon grated lemon zest
Dash cinnamon
5 ounces (141g) tempered chocolate held at 90ºF/32.2C (see Anova Recipe)
Directions
Heat water to 175ºF/79.4ºC using Anova Precision Cooker.
Peel pears with vegetable peeler. Work quickly so pears don't brown. Place into zip-close bag with wine, cloves, lemon peel, cinnamon stick, cardamom pods, and sugar. Add enough water so liquid covers pears. Seal using water immersion method to create vacuum. Place in water and cook.
Stove Top
When pears are done, gently remove pears from bag. Pour wine into saucepan, bring to boil and let reduce until it becomes syrupy.
While wine reduces, use melon baller or small spoon to remove core from bottom of each pear, making sure to remove seeds.
Mix cream cheese with honey, vanilla, grated lemon zest and cinnamon. Place into plastic bag, snip off end and pipe mixture into hollows created when seeds were removed.
Cover piped mixture with a "lid" of chocolate and chill so chocolate hardens. Remove wine syrup from heat and cool completely.
For each serving, place 1 pear in shallow bowl. Pour in just enough wine syrup to cover bottom of bowl. Drizzle remaining tempered chocolate over each plated pear. Serve immediately or hold at room temperature (unless it is too warm) until time to serve.