Sous Vide Radishes with Butter and Sea Salt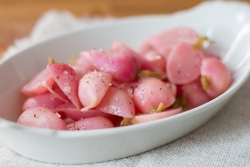 Radishes take center stage in this classic preparation. With just a few simple ingredients — butter, salt, and pepper — and 45 minutes in the Anova Sous Vide Precision Cooker, radishes become a tender, salty snack (or side dish). Serve and enjoy.
Author
Emily Farris and Jeff Akin
Emily Farris and Jeff Akin are Feed Me Creative — a culinary content studio in Kansas City's historic West Bottoms that specializes in recipe development, food styling, and photography. (We're also really good eaters!)
Prep Time: 00:15
Recipe Time: 00:45
Temperature : 180F / 82.2C
Ingredients
1 pound radishes, halved
3 tablespoons unsalted butter
1 teaspoon fleur de sel (sea salt)
½ teaspoon freshly ground black pepper
Directions
Set the Anova Sous Vide Precision Cooker to 180°F (82°C).
Combine all ingredients in a large zipper lock or vacuum seal bag. Seal the bag using the water immersion technique or a vacuum sealer on the dry setting. Place in the water bath and set the timer for 45 minutes.
Finishing Steps
When the timer goes off, remove the bag from the water bath. Transfer entire contents of the bag to a platter and serve.