Sous Vide Pre-Brined Corned Beef with Cabbage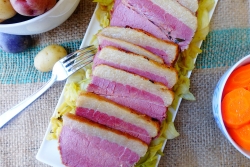 Corned beef is a dish many of us see only once a year around St. Patrick's day, when we find it on the shelf at our local butcher or supermarket, and with reason. Most completely homemade corned beef recipes require at least a week of brining and a list of special ingredients (which are totally worth it, by the way!). It is much easier to pick up one of these specially-prepared slabs of brisket and skip that weeklong prep, and when you finish it with the sousvide method, you are going to take this delicacy to new heights. No watching the stove - just nearly effortless, perfect results to get the corned beef & cabbage you know and love! This is a GREAT opportunity to build a Frankencooler or break yours out if you have one already - it definitely helps preserve the heat and water level for this long cook time.
Author
Nicole Poirier
Chef Nicole is our Content Development Chef at Anova Culinary, devoted to help making your sous vide recipe dreams come true and writing informative blog posts to aid you along the way. She attended culinary school at Ecole Ritz-Escoffier at the Ritz Hotel in Paris, France and worked as a restaurant chef in Rhode Island before becoming an award-winning international yacht chef. Chef Nicole has worked alongside Anova Culinary since our Kickstarter in 2014 and officially joined the team in November, 2016. She has a specialty private event and catering business and and enjoys teaching cooking to clients throughout the Bay Area.
Prep Time: 00:05
Recipe Time: 48:00
Temperature : 140F / 60C
Ingredients
1 2 - 2.5lb/1 k uncooked, brined corned beef
Directions
Set your Anova Precision cooker to 140ºF/60ºC.
Unwrap your pre-brined corned beef and pat dry with paper towels.
Place into a zip-locking bag and use the immersion method to release as much air as possible before sealing.
Place into the preheated water bath and set a timer or alarm for 48 hours.
Finishing Steps
While the cooking is coming to an end, chop a head of cabbage into quarters, removing the core with a knife. Then slice into 1/2"/1.25cm strips.
Remove the meat from the bath. You will see that a fair amount of juice has collected.
Take the meat out of the bag and set aside. Pour the bag juice into a frying pan and bring to a boil.
Add the cabbage to the boiling juice and turn with tongs frequently.
Once the liquid has just about completely evaporated and the cabbage is soft, transfer the cabbage to a warm serving plate.
Wait for the last of the liquid to evaporate and place the corned beef fat-side down to sear/color slightly.
Lightly sear the other sides before slicing the corned beef evenly.
Layer on top of the still-warm cabbage and serve. We recommend pairing with boiled potatoes and carrots for a traditional St. Patrick's Day feast anytime of year!