Sous Vide Poached Chicken with Spring Vegetable Salad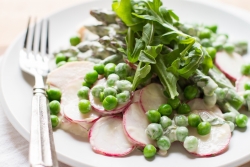 This super simple sous vide poached chicken is a delight when tossed with an abundance of savory greens, aromatics and a hint of radish zeal. This naturally gluten-free meal is simple, pretty and delicious.
Author
Emily Farris and Jeff Akin
Emily Farris and Jeff Akin are the co-founders of Feed Me Creative, a former culinary creative agency in Kansas City, MO.
Prep Time: 00:30
Recipe Time: 01:00
Temperature : 145F / 62.8C
Ingredients
2 pounds (906 mL) boneless skinless chicken breasts
Kosher salt and freshly ground black pepper
3 tablespoons (45 mL) mayonnaise
1 tablespoon (15 mL) lemon juice
1 tablespoon (15 mL) champagne vinegar
1 tablespoon (15 mL) creamy Dijon mustard
1 teaspoon (5 mL) minced fresh garlic
2 teaspoons (10 mL) minced shallot
2 tablespoons (30 mL) extra-virgin olive oil
4 sprigs fresh tarragon leaves
1 cup (237 mL) thinly sliced radishes
1 cup (237 mL) frozen green peas, thawed
1 cup (237 mL) asparagus tips, blanched
1 cup (237 mL) pea shoots
Directions
Set the Anova Sous Vide Precision Cooker to 145°F.
Season the chicken with salt and pepper and seal in a plastic zip or vacuum bag and cook for one hour.
Finishing Steps
Remove the chicken, pat dry, and let cool for 10 minutes.
Whisk together the mayo, lemon juice, vinegar, mustard, garlic, shallot, olive oil, and tarragon. Season with salt and pepper.
Thinly slice chicken and toss with radishes, peas, asparagus, pea shoots, and dressing.