Sous Vide Pickled Shrimp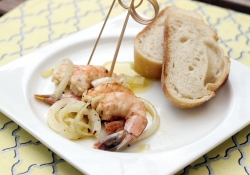 Summer is made for that Southern staple of pickled shrimp. After all, nothing quite whets the appetite on a warm day like chilled plump shrimp bursting with briny tang.
Traditional pickled shrimp is made by first poaching the shrimp, then marinating them in a zesty vinaigrette overnight. Using a precision cooker not only eliminates a step, but makes the shrimp ready to eat in just a couple of hours.
Instead of the usual method of cooking the shrimp in water, stock or court bouillon, I cook it directly in the vinaigrette with sliced onions, so that it's essentially olive-oil poached. That means the shrimp absorb more flavor right from the get-go.
You can cook the shrimp in the vinaigrette inside a vacuum-sealed bag using the water-displacement method or inside a glass canning jar. I like the latter because it adds to the Southern charm of the dish. Just be sure to allow at least a quarter inch of space between the top of the jar and its contents.
Once the shrimp are cooked, all you need do is chill them down for about 2 hours before enjoying. Stored in the refrigerator, the shrimp will keep for a few days in its vinaigrette, and become even more vinegary tasting.
Serve them speared with fancy toothpicks as an hors d'ouevre, with slices of artisan bread as a first course, or draped atop crunchy greens with sliced radishes and fennel and a few spoonfuls of the vinaigrette and onions drizzled all over for a salad that can't be beat.
Author
Carolyn Jung
Carolyn Jung is a James Beard Award-winning Bay Area food journalist, whose work has appeared in the San Francisco Chronicle, Every Day with Rachael Ray, Coastal Living, Via magazine, Food Arts, Edible Silicon Valley, Wine Spectator and other publications. She is the former staff food writer for the San Jose Mercury News. Her debut cookbook "San Francisco Chef's Table'' published in December 2013. She is also the creator of the acclaimed blog, FoodGal.com.
Prep Time: 00:20
Recipe Time: 00:30
Temperature : 149F / 65C
Ingredients
½ teaspoon (2.5 mL) yellow mustard seeds
¼ teaspoon (1.2 mL) celery seeds
½ teaspoon (2.5 mL) red pepper flakes
½ teaspoon (2.5 mL) coriander seeds
½ teaspoon (2.5 mL) fennel seeds
¾ cup (3.7 mL) olive oil
½ cup (2.5 mL) freshly squeezed lemon juice
4 tablespoons (59 mL) Champagne vinegar
¾ teaspoon (3.7 mL) kosher salt
4 bay leaves
Pinch of white pepper
1 tablespoon (15 mL) Old Bay seasoning
2 garlic cloves, sliced very thinly
1 pound of shrimp (16 to 20 count), de-veined, and shelled, but with tail end intact
½ small yellow onion, cut into very thin slices
Directions
In a large pot of water, set the Anova to 65 degrees Celsius (149 degrees Fahrenheit).
In a small sauté pan over medium heat, toast mustard seeds, celery seeds, red pepper flakes, coriander seeds, and fennel seeds, stirring frequently, just until they give off their aromas and the seeds begin to pop. Remove from heat and allow to cool.
In a medium-size, clean glass canning jar (or in a large sealable plastic bag), stir together olive oil, lemon juice, Champagne vinegar, toasted spices, salt, bay leaves, white pepper, Old Bay seasoning, and garlic cloves. Layer in shrimp and onions, making sure the vinaigrette covers them. Seal the jar, making sure there is at least a quarter inch of headspace between the top and the contents. (Or use the water-displacement method to seal the bag.)
When the water has reached the optimal temperature, carefully lower in the jar (or bag), making sure it is completely submerged. Allow to cook for 30 minutes.
Finishing Step -- Chilling
Remove the jar or bag, let sit on the countertop for about 5 minutes to cool down. Prepare an ice-water bath in a bowl or small pot. Add the jar or bag of shrimp, and allow to cool to room temperature. Remove, and place the sealed jar or bag in the refrigerator for at least 2 hours to chill before enjoying. This will serve 2 to 3 as part of a salad; or 4 as an appetizer.