Sous Vide Philly Cheese Steak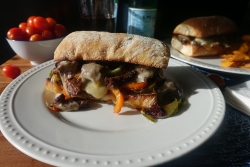 The Philly Cheese Steak is a world-famous culinary experience, and rightly so with its tender shaved steak morsels, caramelized onions, peppers, and garlic, melted Provolone and crisp toasted bread. We knocked these sammies up with all whole ingredients - no "Cheese Whiz" here! - because that's just how we (torpedo) roll - and the feedback we got from our testers was that it was AHHHH-mazing! We know you'll think so, too!
Author
Nicole Poirier
Chef Nicole is our Content Development Chef at Anova Culinary, devoted to help making your sous vide recipe dreams come true and writing informative blog posts to aid you along the way. She attended culinary school at Ecole Ritz-Escoffier at the Ritz Hotel in Paris, France and worked as a restaurant chef in Rhode Island before becoming an award-winning international yacht chef. Chef Nicole has worked alongside Anova Culinary since our Kickstarter in 2014 and officially joined the team in November, 2016. She has a specialty private event and catering business and and enjoys teaching cooking to clients throughout the Bay Area.
Prep Time: 00:20
Recipe Time: 01:30
Temperature : 131F / 55C
Ingredients
8oz/225g flank steak
1/4 teaspoon salt
1/4 teaspoon pepper
1/4 teaspoon garlic powder
1 green Bell pepper ~ 130g
1 colored Bell pepper (red/orange/yellow) ~ 130g
1 white onion ~ 145g
3 garlic cloves ~ 12g
2 Tablespoons olive oil
Pinch salt
4 - 8oz/112 - 225g sliced provolone cheese (wide range is reflective of how cheesy you want to make your sandwich!)
2 torpedo/sandwich rolls
Directions
Set your Anova Precision Cooker to 131ºF/55ºC.
Liberally season both sides of your flanks steak with salt, pepper, and garlic powder. You are welcome to use more or less of any of these ingredients to your taste.
Use the immersion method to release as much air as possible from the bag and seal.
Place into the heated bath and set the timer for 90 minutes.
While The Steak Cooks
When you have about 30 minutes left on the timer, slice your peppers, onions, and garlic.
Warm olive oil in a saute/frying/cast iron pan over medium-high heat.
When the oil is shimmering, add the sliced vegetables and a pinch of salt. Stir through to coat all in the oil.
Saute over medium heat for 15 minutes, until the vegetables are soft and caramelizing.
Meanwhile, turn on the broiler and set shelf 4 - 6"/10 - 15cm below.
Once the Steak is Finished
Remove from the bath and pat dry with paper towel or kitchen cloth.
Sear as desired. We used a cast iron pan brushed with 1 Tablespoon avocado oil.
Slice against the grain to optimize tenderness, and then further with perpendicular cuts so that it is in bite-sized pieces.
Add the bite-size pieces of meat, stir through, and cook until there is no pink left.
Cut the bread in half lengthwise from the side, and open like a book. Place on a baking tray cut-side up and pop under the broiler for 5 minutes to toast.
While that toasts, divide the meat in the pan into two portions and top each with cheese. Allow the cheese to melt.
Remove your rolls from the oven and transfer a portion of meat topped with fully melted cheese to each one.
Fold over the top, move to a serving plate, and enjoy!