Sous Vide Pears with Vanilla Butter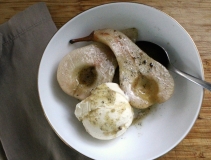 Poached pears are one of my favorite desserts -- they're silky smooth and just sweet enough to qualify as a treat. Poaching the pears with a precision cooker makes it possible to concentrate that sweet pear flavor and add an enriching pat of butter. After only 30 minutes of poaching, the pears are spoon-tender and their juices have melded with the butter to form a luxurious sauce. A dollop of vanilla ice cream is the perfect finishing touch.
Author
Kate Williams
Kate is a freelance food writer and editor living in Berkeley, CA. Before moving to the Bay Area, Kate spent two years working as a test cook at America's Test Kitchen, and has contributed to Serious Eats, The Oxford American, KQED and The Hypocrite Reader, among others. She's currently the editor of Berkeleyside NOSH.
Prep Time: 00:10
Recipe Time: 00:30
Temperature : 175F / 79.4C
Ingredients
2 ripe pears, peeled
1 vanilla bean
2 tablespoons dark brown sugar
1/8 teaspoon flaky sea salt
1 tablespoon unsalted butter
Vanilla ice cream, for serving
Directions
Set the Anova Sous Vide Precision Cooker to 175ºF (79ºC).
Slice the pears in half lengthwise. Using a small measuring spoon, scoop out the core. Divide pear halves between two zipper lock or vacuum seal bags.
Slice the vanilla bean in half lengthwise and use the back of a pairing knife to scrape all of the seeds out into a small bowl. Add the brown sugar and salt. Using your fingers, rub the vanilla bean seeds into the sugar until well combined.
Divide the sugar mixture between the two bags. Add 1/2 tablespoon butter and one half of the vanilla bean pod to each bag. Seal the bags using the water immersion technique or a vacuum sealer on the moist setting. Transfer the bags to the water bath and set the timer for 30 minutes.
Finishing Steps
When the timer goes off, remove the bags from the water bath. Remove the pears from the bag and transfer to serving bowls.
Use a spoon to drizzle butter sauce from the bags over pears. Serve with vanilla ice cream.