Sous Vide Peach Cobbler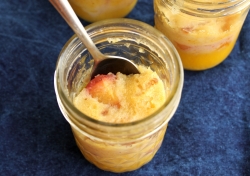 Cakes, cookies, and muffins are not the only baked goods you can sous vide. Peak season fruit cobblers are also an excellent choice for the Anova Precision Cooker.

I particularly like to make my family's peach cobbler recipe sous vide — it's rich with butter and summery-sweet with an extra dose of peaches. We call it "cuppa cuppa sticka." There's a "cuppa" self-rising flour, a "cuppa" milk, a "cuppa" sugar, and a "sticka" butter in addition to the fruit and a little vanilla. (It should really have three "cuppas" in the name.)

It's dead-simple to mix together and the resulting dessert is a jar full of summer.

You can serve the cobblers warm, straight out of the jar, or at room temperature. A scoop of vanilla ice cream or dollop of whipped cream would not be out of place.

Note: This cobbler is not for the butter-shy :)
Author
Kate Williams
Kate is a freelance food writer and editor living in Berkeley, CA. Before moving to the Bay Area, Kate spent two years working as a test cook at America's Test Kitchen, and has contributed to Serious Eats, The Oxford American, KQED and The Hypocrite Reader, among others. She's currently the editor of Berkeleyside NOSH.
Prep Time: 00:15
Recipe Time: 03:00
Temperature : 195F / 90.6C
Ingredients
1 cup (4 ounces) self-rising flour
1 cup (7 ounces) granulated sugar
1 cup whole milk
1 teaspoon vanilla extract
8 tablespoons (1 stick) unsalted butter, melted
2 cups (12 ounces) roughly chopped peaches (2 to 3 medium)
Directions
Set the Anova Sous Vide Precision Cooker to 195ºF (90.6ºC). Generously grease 6 half-pint canning jars with non-stick oil spray or butter.
Whisk together flour and sugar in a large bowl. Whisk in milk and vanilla until smooth. Stir in butter and peaches.
Divide the batter between the prepared jars. Wipe off sides and tops of jars using a damp towel. Firmly tap jars on the counter to remove air bubbles.
Place lids and bands on jars and seal until just tight (do not over-tighten jars; air will still need to escape). Place jars in water bath and set the timer for 3 hours.
Finishing Steps
When the timer goes off, remove the jars from the water bath. Place on a cooling rack. Carefully remove the lids. Let cool for at least 10 minutes before serving.