Sous Vide Oxtail Ragout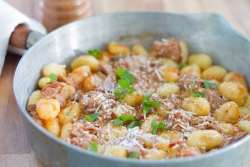 Oxtail (like most tail meat) can be tough, which is why it's often braised for extended periods of time and made into a ragout — a rich preparation with tomatoes, onions, and other aromatics. When done well, oxtail ragout is a rich, comforting, melt-in-your mouth meat sauce that is made even more comforting when served with potato gnocchi or a fresh pasta like pappardelle. This sous vide oxtail ragout preparation cooks for 24 hours in the Anova Sous Vide Precision Cooker, but the result is well worth the wait.
Author
Emily Farris and Jeff Akin
Emily Farris and Jeff Akin are the co-founders of Feed Me Creative, a former culinary creative agency in Kansas City, MO.
Prep Time: 00:45
Recipe Time: 24:00
Temperature : 180F / 82.2C
Ingredients
2 pounds oxtails
1 (14 1/2-ounce) can diced tomatoes
1 cup beef stock
1 cup shredded onion
1/2 cup shredded celery
1/2 cup shredded carrot
1 bay leaf
Kosher salt and freshly ground black pepper
Directions
Set the Anova Sous Vide Precision Cooker to 180°F (82°C).
Combine the oxtail, tomatoes with their juice, beef stock, onion, celery, carrot, bay leaf, 2 teaspoons salt and 1 teaspoon pepper in a large zipper lock or vacuum seal bag. Seal the bag using the water immersion technique or a vacuum sealer on the moist setting. Place in the water bath and set the timer for 24 hours. Cover the water bath with plastic wrap to minimize water evaporation.
Finishing Steps
When the timer goes off, remove the bag from the water bath and transfer to an ice bath. Chill in ice bath for 30 minutes.
Skim off any accumulated fat from the surface of the oxtail mixture. Remove the oxtails and transfer to a plate. Reserve cooking liquid and vegetables.
Pull the meat from the oxtails, Discard the bones and any large pieces of fat.
Transfer the cooking liquid, vegetables, and shredded oxtail meat to a large saucepan. Bring the mixture to a simmer over medium-high heat. Reduce the heat to low and continue to simmer for 10 minutes. Season to taste with salt and pepper. Remove the bay leaf. Serve.