Sous Vide Octopus Potato Salad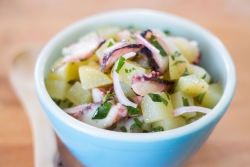 Take your potato salad up a notch by adding simple sous vide octopus. Doesn't this look outstanding?
Author
Emily Farris and Jeff Akin
Emily Farris and Jeff Akin are Feed Me Creative — a culinary content studio in Kansas City's historic West Bottoms that specializes in recipe development, food styling, and photography. (We're also really good eaters!)
Prep Time: 01:00
Recipe Time: 04:00
Temperature : 180F / 82.2C
Ingredients
1 pound octopus tentacles
2 pounds Yukon Gold potatoes, cut into 1/2-inch cubes
1/4 cup plus 1 tablespoon extra virgin olive oil
4 tablespoons sherry vinegar
2 tablespoons creamy Dijon mustard
1 tablespoon chopped fresh parsley
1 tablespoon chopped fresh tarragon
1 teaspoon smoked paprika
Kosher salt and freshly ground black pepper
1/2 red onion, thinly sliced
Directions
Set the Anova Sous Vide Precision Cooker to 180°F (82.2°C).
Place the octopus in a large zipper lock or vacuum seal bag. Seal the bag using the water immersion technique or a vacuum sealer on the dry setting. Place the bag int the water bath and set the timer for 4 hours.
About 30 minutes before the octopus is finished, bring a large pot of salted water to a boil. Add the potatoes and boil until tender, about 20 minutes. Drain and let cool.
Finishing Steps
When the timer goes off, remove the bag from the water bath. Remove the octopus and brush with 1 tablespoon olive oil. Discard cooking liquid.
Heat a grill pan over high heat for 5 minutes. Grill the octopus until edges are crisp, about 5 minutes. Transfer to a cutting board and slice in to 1/2-inch pieces.
In a large bowl, whisk together the vinegar, mustard, parsley, tarragon, and paprika. Slowly drizzle in the remaining 1/4 cup olive oil until emulsified. Season to taste with salt and pepper.
Add the red onion, potatoes, and octopus. Toss to coat. Season to taste with salt and pepper and serve.