Sous Vide No-Soak Beans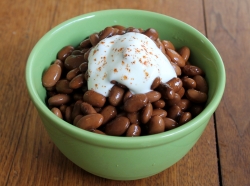 It's been a long-held maxim that the only way to ensure properly cooked beans is to soak them overnight in cold water. Recently, that truth seems to have been debunked. Food bloggers across the Internet have been decrying the method for years, yet only now is the new understanding finally taking hold. No-soak beans take a little longer to cook, but far less planning.
Cooking no-soak dried beans in the Anova Sous Vide Precision Cooker is likewise a longer time investment; however, it is easy to set up the beans at the beginning of the day and come home to fully cooked legumes in time for dinner. Plus, the temperature-controlled water bath yields tender beans with absolutely no chance of overcooked, mushy results. Here, I've cooked pinto beans, but you can use this method to prepare any dried beans you'd like. Feel free to alter the seasonings and aromatics to suit your preference.
Author
Kate Itrich-Williams
Prep Time: 00:10
Recipe Time: 06:00
Temperature : 190F / 87.8C
Ingredients
1 cup dried pinto beans
1/2 onion, peeled
2 cloves garlic, crushed
1 teaspoon dried oregano
1 teaspoon kosher salt
3 cups water
Sour cream, for serving (optional)
Cayenne pepper, for serving (optional)
Directions
Set the Anova Sous Vide Precision Cooker to 190ºF (87ºC).
Combine the beans, onion, garlic, oregano, and salt in a large zipper lock bag. Carefully add the water. Seal the bag using the water immersion technique and place in the water bath. Set the timer for 6 hours.
Finishing Steps
When the timer goes off, remove the bag from the water bath. Pour the contents of the bag through a fine-mesh strainer set over a medium bowl. Reserve the bean cooking liquid to use as vegetable broth, if desired. Discard the onion and garlic cloves.
Transfer the beans to a serving bowl and top with sour cream and cayenne pepper, if desired. Serve.