Sous Vide Monkey Bread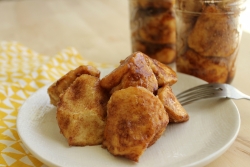 Monkey bread is a sweet pull-apart loaf that is basically a love-child between cinnamon buns and biscuits. In other words, it is the perfect breakfast (or brunch) treat. When prepared in the Anova Precision Cooker, the dough stays tender and moist and soaks up every last bit of the delicious, buttery, sweet filling. Make this monkey bread in individual jars for ease and yummy brunch-time entertaining.
Author
Kate Itrich-Williams
Prep Time: 02:15
Recipe Time: 03:00
Temperature : 195F / 90.6C
Ingredients
1/2 cup (118 mL) whole milk
3 tablespoons (44 mL) water
8 tablespoons (1 stick) unsalted butter
2 tablespoons (2 mL) granulated sugar
1 teaspoon (5 mL) salt
1 1/2 teaspoons (7 mL) active dry yeast
1 1/2 cups plus 2 tablespoons (187.5 grams) all-purpose flour, plus more for kneading
1/2 cup (106.5 grams) light brown sugar
1 teaspoon (5 mL) ground cinnamon
Directions
Combine milk, water, and 1 tablespoon butter and milk in a small saucepan over medium-low heat. Gently heat just until the butter has melted. Transfer to a large bowl. (Alternatively, microwave the butter and milk until butter is melted.)
Whisk in sugar and salt until dissolved. Let the mixture cool until just warm to the touch, 2 to 3 minutes. Whisk in yeast.
Add flour and stir to form a shaggy dough.
Transfer dough to a well-floured counter and knead until dough is soft and springy, 5 to 7 minutes. Roll dough to form a ball.
Transfer dough to a lightly greased bowl. Cover with plastic wrap and let dough rise in a warm place until doubled in size, about 1 hour.
Set the Anova Sous Vide Precision Cooker to 195ºF (90.5ºC). Generously grease 5 half-pint canning jars with non-stick oil spray or butter.
Melt remaining 7 tablespoons butter and transfer to a medium bowl. Whisk together brown sugar and cinnamon in a second medium bowl.
Turn dough out onto a lightly-floured counter. Press dough into a square, roughly 8 inches across. Cut square into quarters.
Cut each dough quarter into 6 to 8 evenly sized pieces.
Roll each piece of dough into a small ball. The balls should be roughly the same size, but don't need to be perfect.
Dip one dough ball at a time into the melted butter, and then roll in the brown sugar mixture. Transfer the sugar coated ball to one of the prepared jars. Repeat with remaining dough balls, dividing them evenly between the jars.
Cover jars with a clean kitchen towel and let rise in a warm place until doubled in size, about 45 minutes.
Place lids and bands on jars and seal until just tight (do not over-tighten jars; air will still need to escape). Place jars in water bath and set the timer for 3 hours.
Finishing Steps
When the timer goes off, remove the jars from the water bath and transfer to a cooling rack. Carefully remove the lids. Let the jars cool for 5 minutes before running a knife around the sides of the jars to loosen monkey bread. Serve in jars or un-molded on individual serving plates.