Sous Vide Miso Butter Cod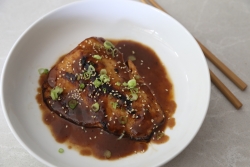 Miso-hungry! This quick and easy dish is perfect for those days when you want something satisfying but don't want to spend an arm and a leg plus a fortune at a restaurant. I recently went to San Diego for my first Comic-con. I was lucky enough to eat at Nobu and I was so inspired to remake the blackened miso cod that we had there. This is my take on the famous dish and I couldn't be happier with the results!
Author
Bea Mendoza
Bea Mendoza is an #anovafoodnerd from Las Vegas who loves food, travel, and sous vide. As a nursing student, Bea admits that studying takes up the bulk of her time, and cooking at home can be difficult for her to fit into her routine. With Anova, it's easy for her to get her work done and still enjoy quality, home-cooked meals. She sets up Anova, drops her food in the water bath, and has her dinner going in minutes, giving her time to dives into her studies while her food cooks.
Prep Time: 00:15
Recipe Time: 00:30
Temperature : 131F / 55C
Ingredients
1 large Atlantic Cod filet
2 tbsp miso paste
1.5 tbsp brown sugar
2 tbsp soy sauce
2 tbsp mirin
2 tbsp butter
Sesame seeds & green onions for garnish
Directions
Set Anova Sous Vide Precision Cooker to 131°F / 55°C
Marinate the cod with the miso paste, brown sugar, soy sauce and mirin (you can make this ahead of time).
Place in a ziplock bag and seal using the water immersion technique.
Place in the water bath for 30 minutes if thawed and 1 hour if frozen.
Take the bag out of the water bath.
Finishing Steps: To Serve
Take the bag out of the water bath.
Melt 1 tbsp of butter on a non-stick pan on medium high heat.
Sear cod 1 minute on each side. Set aside.
Take the sauce from the bag and pour it onto the pan. Reduce until thickened.
Add 1 tbsp of butter and stir.
Drizzle the sauce on the cod and garnish with sesame seeds and green onions.
Serve with hot steamed rice. Enjoy!