Sous Vide Mexican-Style Creamed Corn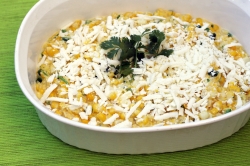 Creamy, cheesy and with a hit of heat – what's not to love about Mexican-style corn on the cob? A popular traditional street food, it's eaten with the fingers, so it can be a little messy to bite into. That's why this version, in which the kernels are removed from the cob and cooked like creamed corn – is ideal for times you want to be a little more refined and forgo the stacks of paper napkins. Cooking the corn with a precision cooker ensures the kernels wind up al dente. You puree some of the corn to form the creamy base, then fold in the rest of the kernels to add texture. A touch of heavy cream, some diced jalapeño and a squirt of fresh lime juice add pizazz. Garnish with cilantro and cotija, the hard, crumbly Mexican cheese that's akin to feta in texture and flavor, but milder tasting. Then spoon – yes, spoon – onto plates generously and serve.
Author
Carolyn Jung
Carolyn Jung is a James Beard Award-winning Bay Area food journalist, whose work has appeared in the San Francisco Chronicle, Every Day with Rachael Ray, Coastal Living, Via magazine, Food Arts, Edible Silicon Valley, Wine Spectator and other publications. She is the former staff food writer for the San Jose Mercury News. Her debut cookbook "San Francisco Chef's Table'' published in December 2013. She is also the creator of the acclaimed blog, FoodGal.com.
Prep Time: 00:20
Recipe Time: 00:50
Temperature : 181.4F / 83C
Ingredients
4 ears of corn, shucked
2 tablespoons (28.35 grams) cold butter
Pinch of salt
1/3 cup (2.66 ounces) heavy cream
½ to 1 whole jalapeno, diced
2 tablespoons (30 grams) cilantro leaves, chopped, plus more whole leaves for garnishing
Juice of 1 lime
1/3 cup (2.66 ounces) grated cotija cheese
Directions
Place the Anova in a large pot of water and set it to 83 degrees Celsius (181.4 degrees Fahrenheit).
Place a large bowl on top of a towel on the counter to keep it steady. With one hand, hold one ear of corn perpendicular to the bowl. With a chef's knife in your other hand, scrape off the kernels so they land inside the bowl. Repeat with all ears.
In a plastic bag, add the kernels, butter and salt; vacuum seal.
When the water has reached the optimum temperature, add the bag of corn and allow to cook for 30 minutes.
Finishing Steps -- Food Processor
When the corn is done, remove 1 ½ cups of the kernels to a food processor. Using the on/off switch, puree until mixture is slightly creamy.
Finishing Steps -- Stovetop
Simmer on medium heat for about 5 minutes until mixture slightly thickens, stirring occasionally. Stir in the remaining whole kernels; heat through. Take saucepan off Pour pureed kernels into a small saucepan. Add 1/3 cup heavy cream. the heat, and stir in jalapeno, cilantro and lime juice. Spoon mixture into a serving bowl. Scatter cheese over the top and garnish with a few sprigs of cilantro.