Sous Vide Mexican Street Corn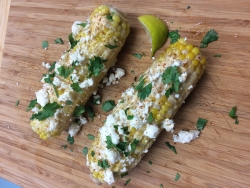 One of Patrick's favorite recipes. The corn cooks in it's own juices, making sure it's chock-full of flavor. The corn is cooked precisely to temperature ensuring it's juicy and delicious.
Author
Patrick Mathieu
Food, family, and firefighting pretty well sums up what Patrick loves. Recently he discovered sous vide, and it has taken his already stellar cooking game to the next level. Patrick uses Anova while at home, but also at the firehouse. Routinely serving up family-style meals worthy of high-praise, he keeps his fellow firefighters well fed and ready to go into action whenever necessary!
Prep Time: 00:05
Recipe Time: 00:30
Temperature : 183F / 83.9C
Ingredients
2 ears of corn, shucked
2 tablespoons cold butter
Kosher salt
Fresh ground pepper
1/4 cup mayonnaise
1/2 tablespoon Mexican-style chili powder
1/2 teaspoon finely grated lime zest
¼ cup crumbled Cotija cheese or Queso Fresco
¼ cup fresh chopped cilantro
Lime wedges, for serving
Directions
Set Anova Sous Vide Precision Cooker to 183°F / 83.9°C
Place the ears of corn along with the butter salt and pepper in a plastic sealable bag.
When the pot of water has reached its temperature, add the bag of corn using the water submersion method and allow it to cook for 30 minutes.
Finishing Step
When corn is done remove it from the bag. In a small bowl, combine the mayonnaise, chili powder, and lime zest. Put the Cotija or Queso Fresco on a small plate. Spread each ear of corn with 1 Tbs. of the mayonnaise and then roll in the cheese to coat. Sprinkle with kosher salt and cilantro and serve with lime wedges for squeezing over the corn. Enjoy!