Sous Vide Matcha Coconut Custards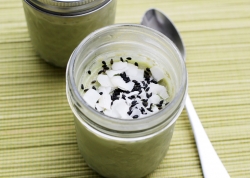 Imagine the taste of Asian milky green tea -- but in custard form. That's what this sweet treat is all about.

It's your favorite boba tea – only served in cute little individual jam jars that you can take on the go, too.

Matcha, the Japanese ceremonial powdered green tea, can be found easily at Japanese markets. It boasts a rich grassy, slightly astringent flavor that gives way to a subtle natural sweetness. If green tea is touted for its high levels of antioxidants, matcha is an even more potent form, as the whole tea leaves are ground to a fine powder that's ingested. Its dazzling color also gives this custard a pretty sea-foam hue.

You can use any type of jam jar for these custards. Although mason jars should be air-tight, I like to err on the side of caution. That's why I opt to jerry-rig a system in which I use upside-down coffee cups or ramekins on the bottom of my pot of water set up with my precision cooker for my jars to rest on. That way, they are never completely submerged. Instead the water remains below their screw-top levels, ensuring no water can leak in. The overturned ramekins work well for jelly-sized jars; the taller upside-down coffee cups help prop up more squat jars.
The result is a spoon-able, creamy custard. It's not as dense as the filling in a custard pie, and it's not as heavy tasting as that of crème brulee. Instead, it's just right – a perfect soothing taste of sweet milky tea.
Author
Carolyn Jung
Carolyn Jung is a James Beard Award-winning Bay Area food journalist, whose work has appeared in the San Francisco Chronicle, Every Day with Rachael Ray, Coastal Living, Via magazine, Food Arts, Edible Silicon Valley, Wine Spectator and other publications. She is the former staff food writer for the San Jose Mercury News. Her debut cookbook "San Francisco Chef's Table'' published in December 2013. She is also the creator of the acclaimed blog, FoodGal.com.
Prep Time: 00:20
Recipe Time: 01:20
Temperature : 176F / 80C
Ingredients
4 eggs
½ cup (115 grams) granulated sugar
½ teaspoon (.25 ounce) vanilla extract
Pinch of kosher salt
1 can (13.7 ounces) coconut milk
2/3 cup (5.3 ounces) whole milk
1/3 cup (2.6 ounces) heavy cream
2 teaspoons (0.33 ounces) matcha, sifted to eliminate any lumps
Flaked, unsweetened coconut, for garnishing
Black sesame seeds, for garnishing
Directions
Fill a large pot with water and arrange coffee cups or ramekins upside-down on the bottom of the pot so that they provide a ledge for your glass jars to rest on. You may want to prop one of your jars on top of one of your upside-down coffee cups or ramekins to determine the correct level of water in the pot needed. You want the water level to hit just below the screw-top of the jar. Keep in mind that the level of the water will rise a bit once you have all your filled jars in the pot.
Set the Anova to 80 degrees Celsius (176 Fahrenheit).
In a medium bowl, whisk eggs with sugar, vanilla extract and salt.
In a medium saucepan over medium-high heat, combine coconut milk, whole milk and heavy cream. Bring to a simmer. Whisk in matcha. Remove from heat.
Temper the egg mixture, by ladling a little of the hot milk-cream mixture into the bowl, all the while whisking. Continue adding a little more of the hot milk-mixture slowly into the egg mixture, whisking continuously so that you don't end up with scrambled eggs. Once you've incorporated about half of the milk-cream mixture, you can more quickly add the remainder of it into the egg mixture until it is all combined.
Strain the custard mixture into a clean medium-size mixing bowl to make sure there are no lumps.
Carefully ladle the mixture into your jars. Screw on the lids just until you feel them tighten; don't over-tighten, as the jars may burst while cooking.
When the water has reached the optimum temperature, carefully position the jars onto the upside-down coffee cups or ramekins. The level of the water should reach the level of the custard mixture but be below the screw-tops. Allow to cook for 1 hour.
After 1 hour, remove one of the jars with a pair of tongs. The mixture should be thickened and fairly set. If it looks liquidy at all, place the jar back in the water and allow to cook for about 5 minutes longer until the mixture is more set.
Using tongs, carefully remove the jars from the pot of water. Allow them to cool on the counter for about 10 minutes.
Prepare an ice water bath in a baking or roasting pan. Place the jars into the ice water and allow them to cool to about room temperature.
Remove the jars and place them in the refrigerator, chilling for at least 4 hours. This recipe will serve 6 to 8, depending upon the size of the jars used.
Finishing Steps -- To Serve
When ready to serve, remove the lids of each jar, and garnish the top of the custards with coconut flakes and black sesame seeds.