Sous Vide Maple-Rosemary Pork Tenderloin with Apples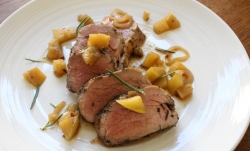 Pork tenderloin is notoriously difficult to cook properly. When it is cooked on the stovetop or in the oven, it can easily turn out dry and tough, at which point only a rich sauce can save it; however, using a precision cooker to gently cook the tenderloin makes it easy to serve the roast at a perfectly rosy and tender medium. Add a maple-rosemary marinade and quickly sautéed apples, and you've got a perfect entree for fall.
Author
Kate Itrich-Williams
Prep Time: 00:30
Recipe Time: 02:00
Temperature : 135F / 57.2C
Ingredients
1 (1-pound) pork tenderloin
1 tablespoon chopped fresh rosemary, plus one small sprig
1 tablespoon maple syrup
1 teaspoon freshly ground black pepper
Kosher salt
1 tablespoon extra virgin olive oil
1 golden delicious apple, diced
1 small shallot, thinly sliced
1/4 cup chicken broth, vegetable broth, or water
1/2 teaspoon apple cider vinegar, plus more to taste
Directions
Set the Anova Sous Vide Precision Cooker to 135ºF (57ºC).
Trim off the sliver skin from the pork tenderloin. If the tenderloin is longer than 10 inches, slice in half cross-wise.
Combine chopped rosemary, maple syrup, ground pepper, and 1 teaspoon salt in a small bowl. Rub mixture on all sides of the tenderloin.
Transfer tenderloin to a large zipper lock or vacuum seal bag. Seal the bag using the water immersion technique or a vacuum sealer on the moist setting.
Place bag in the water bath and set the timer for 2 hours.
Finishing Steps
When the timer goes off, remove the bag from the water bath. Remove the pork from the bag and pat very dry with paper towels. Reserve cooking liquid in the bag.
Heat olive oil in a large skillet over medium-high heat. When the oil is shimmering, add the pork. Sear until well-browned on all sides, 3 to 5 minutes total. Transfer to a cutting board and cover to keep warm.
Reduce the heat under the skillet to medium and add the apple, shallot, and rosemary sprig. Season with salt.
Sauté apple mixture until golden brown, 2 to 3 minutes. Add the broth, vinegar, and reserved cooking liquid from the bag. Bring to a simmer and cook until liquid is almost completely reduced and apples are fully softened, 3 to 5 minutes. Season to taste with salt and vinegar.
Slice tenderloin into medallions and serve with apples.