Sous Vide Long-Cooked Green Beans in Tomato Sauce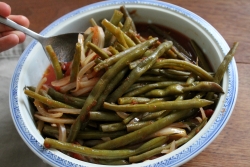 Green beans almost always make an appearance at my holiday table — and they're most often cooked at the last minute, thrown in a pan with a bit of garlic, butter and salt. This year, I suggested cooking the beans as the Greeks do — long and slow, in a garlic-tomato sauce. The beans emerge supple and enriched with the tangy brightness of the tomatoes and alliums. The dish is beyond easy to make in the Anova Precision Cooker — simply add everything to a bag and let it cook for a few hours.
Author
Kate Williams
Kate is a freelance food writer and editor living in Berkeley, CA. Before moving to the Bay Area, Kate spent two years working as a test cook at America's Test Kitchen, and has contributed to Serious Eats, The Oxford American, KQED and The Hypocrite Reader, among others. She's currently the editor of Berkeleyside NOSH.
Prep Time: 00:10
Recipe Time: 03:00
Temperature : 183F / 83.9C
Ingredients
1 pound green beans, trimmed
1 (28-ounce) can whole tomatoes, crushed with your hands
1 onion, thinly sliced
3 cloves garlic, peeled and thinly sliced
Kosher salt
Extra virgin olive oil
Directions
Set the Anova Sous Vide Precision Cooker to 183ºF (83ºC).
Combine the green beans, tomatoes, onion, garlic, and 1/2 teaspoon salt in a large zipper lock bag. Seal the bags using the water immersion technique.
Place the bag in the water bath and set the timer for 3 hours.
Finishing Steps
When the timer goes off, remove the bag from the water bath. Transfer green beans and sauce to a large serving bowl. Season with salt to taste and generously drizzle with olive oil. Serve.