Sous Vide Lollipop Lamb Chops with Curried Yogurt Dipping Sauce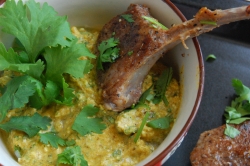 These tiny lamb chops get eaten in 1 bite—this recipe is for 8 lamb chops (serves 4 as appetizers), but can very easily be doubled. Make plenty of sauce, because your guests will help themselves to generous amounts.

Note: These chops cook quickly because they are individual and thin.
Author
Barbara Freda
I grew up in a cooking family and after getting a degree in Spanish and Anthropology, realized what I really wanted to do was to go to culinary school. After working in a NYC bank for a few years, I managed to get to culinary school and got my first jobs in NYC kitchens, including a long stint at Union Square Cafe in its earliest years. After (sadly) leaving NYC, I realized I needed to step away from the 80-hour work weeks, so I left the heat of the kitchen for the cool of the computer keyboard: I started writing about food, the business of food, and technology in the food industry, as well as teaching cooking classes. Recipe development remains one of my top loves, and the opportunity to develop recipes for Anova has been fun every step of the way.
Prep Time: 00:10
Recipe Time: 01:00
Temperature : 140F / 60C
Ingredients
8 lollipop lamb chops (single chops with rib bones cleaned; ask butcher to do this if you cannot find these in the meat case)
1 tablespoon (14ml) olive oil
½ teaspoon (.5g) garam masala
¼ teaspoon (.25g) lemon pepper
Dash garlic powder
Salt and pepper to taste
½ cup (90g) yogurt
¼ cup (4g) chopped fresh cilantro
2 tablespoons (50g) mango chutney (chop any big pieces of mango if you find them)
1 tablespoon (6g) curry powder
1 tablespoon (14g) finely chopped onion
1 tablespoon (14ml) oil
Extra chopped cilantro for garnish.
Directions
Heat water to 140ºF/60ºC using Anova Precision cooker.
Lay chops out on cutting board. Drizzle with olive oil, making sure to coat both sides. Sprinkle both sides with garam masala, lemon pepper, garlic powder and salt and pepper to taste.
Seal chops into zip-close plastic bag using water immersion method to create vacuum. Place in heated water and cook 1 hour. While chops cook, make sauce: combine yogurt, cilantro, mango chutney, curry powder and onion, mixing well to combine. Place into small dish and set aside.
Finishing Steps: Stovetop
When chops are done, remove from water and remove chops from bag. Pat chops dry with paper towels.
Heat 1 tablespoon (14ml) oil in skillet over high heat. When oil is almost smoking, place chops into pan and sear, 30 seconds on each side. Remove from skillet and drain quickly on paper towel.
To serve, place chops onto serving platter with curried yogurt sauce. Garnish all with additional chopped cilantro and serve immediately.