Sous Vide Lemon Thyme Simple Syrup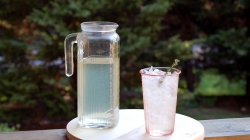 Make a quick and elevated lemonade in seconds with this easy to make lemon thyme simple syrup. It goes great in gin or rum too. It's so easy to make the base syrup, just throw everything in a bag and sous vide for an hour and a half.
Author
Kathy Hester
The author of 5 cookbooks and the the blogger behind Healthy Slow Cooking. Kathy likes to show just how easy it is to make craft cocktails and healthy food.
Prep Time: 00:10
Recipe Time: 01:30
Temperature : 135F / 57.2C
Ingredients
2 cups (474 ml) water
2 cups sugar (474 ml)
2 lemons, washed and sliced thin
1 packed cup fresh lemon thyme, about 2 small bunches
Directions
Set the Anova Sous Vide Precision Cooker to 135ºF (57ºC).
Add the water, sugar, lemon and thyme to a plastic zip-seal bag and close. Put the bag into the sous vide and cook 1 1/2 hours.
Let cool to room temperature, then strain through a fine mesh strainer into a bowl with a pour spout. Pour into bottles, cover with a lid and store in the refrigerator.