Sous Vide Lemon-Blueberry Maple Syrup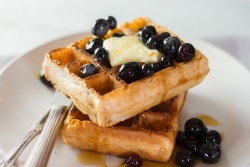 What's better than maple syrup? Pure maple syrup infused with lemon and blueberry, that's what. For this sous vide lemon-blueberry maple syrup, fresh lemon and blueberries are cooked for an hour with pure maple syrup. Your pancakes and waffles will never be the same.
Author
Emily Farris and Jeff Akin
Emily Farris and Jeff Akin are Feed Me Creative — a culinary content studio in Kansas City's historic West Bottoms that specializes in recipe development, food styling, and photography. (We're also really good eaters!)
Prep Time: 00:15
Recipe Time: 01:00
Temperature : 135F / 57.2C
Ingredients
2 cups pure maple syrup
8 ounces blueberries
1/4 cup freshly squeezed lemon juice
1 tablespoon lemon zest
1/2 teaspoon fine sea salt
Directions
Set the Anova Sous Vide Precision Cooker to 135°F (57°C).
Combine all ingredients in a large zipper lock bag. Seal the bag using the water immersion technique and place in the water bath. Set the timer for 1 hour.
Finishing Steps
When the timer goes off, remove the bag from the water bath. Let cool to room temperature. Transfer syrup to an airtight container and refrigerate for up to 2 weeks.