Sous Vide Leg of Lamb With Mint, Cumin, and Mustard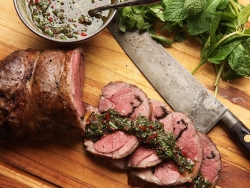 A butterflied leg of lamb is ideal for stuffing and rolling with other ingredients, and, because lamb is so robustly flavored on its own, you don't have to be shy or subtle about it. Today we're stuffing a lamb leg with crispy fried mustard seed and cumin seeds, then cooking it sous vide for perfectly foolproof results.
Author
J. Kenji López-Alt
J. Kenji López-Alt is the Managing Culinary Director of Serious Eats, author of the James Beard Award-nominated column The Food Lab, and a columnist for Cooking Light. He lives in San Francisco. A New York native, Kenji cut his cooking chops the old-fashioned way by working his way up through the ranks of some of Boston's finest restaurants. With an education in science and engineering and as a former Senior Editor at Cook's Illustrated and America's Test Kitchen, Kenji is fascinated by the ways in which understanding the science of every day cooking can help improve even simple foods. He earned a James Beard award for his first book, The Food Lab: Better Home Cooking Through Science, which he released in September 2016. It is available for purchase from Amazon and Barnes & Noble.
Prep Time: 00:45
Recipe Time: 02:00
Temperature Options:
Medium

140F / 60C
Very rare to rare

120F / 48.9C
Medium well

150F / 65.6C
Well done

155F / 68.3C
Medium rare

130F / 54.4C
Ingredients
1/2 butterflied boneless leg of lamb (4 to 5 pounds; 1.8 to 2.2kg)
3 tablespoons (45ml) vegetable or canola oil, divided
1 tablespoon (12g) whole black mustard seeds
2 teaspoons (8g) whole cumin seeds
Kosher salt and freshly ground black pepper
1 ounce (30g) picked fresh mint leaves (about 1 cup), finely chopped
1 ounce (30g) picked fresh cilantro leaves and tender stems (about 1 cup), finely chopped
1 small shallot, finely minced
1 medium clove garlic, finely minced
1 red jalapeño or Fresno chili, finely minced
1 tablespoon (15ml) red wine vinegar
3 tablespoons (45ml) extra-virgin olive oil
Directions
Set Anova Sous Vide Precision Cooker to desired temp from drop down menu.
Heat 2 tablespoons (30ml) vegetable oil in a small skillet over medium-high heat until shimmering. Add mustard and cumin and cook, stirring constantly, until fragrant, about 30 seconds. Immediately transfer to an empty skillet or heatproof bowl and let rest until cool enough to handle. Season mixture generously with salt and pepper.
Spread half of spice mixture evenly over inside of lamb leg, then carefully roll it back up.
Secure lamb leg with butcher's twine at 1- to 1 1/2–inch intervals, starting from both ends and working toward the center. Season exterior generously with salt and pepper.
Seal lamb inside a vacuum bag, or a zipper-lock bag using the water displacement method, then submerge and cook for two hours.
Finishing Steps
Meanwhile, make the chimichurri by combining remaining cumin and mustard mixture with mint, cilantro, shallot, garlic, chili, red wine vinegar, and olive oil in a medium bowl. Stir vigorously with a fork and season to taste with salt and pepper. Set aside.
When ready to serve, remove lamb from bag and carefully pat dry with paper towels. In a cast iron, carbon steel, or nonstick skillet, heat remaining 1 tablespoon (15ml) vegetable or canola oil over high heat until lightly smoking, then add lamb and cook, turning occasionally, until well browned on all sides, about 4 minutes total.
Remove twine, slice lamb, and serve immediately with chimichurri.