Sous Vide Leeks With Vinaigrette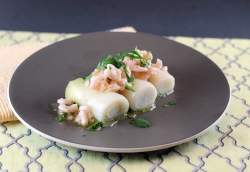 In most recipes, leeks act as a supporting player rather than in a lead role. While they are integral to flavoring soups, stews, braises and roasts, it's rare that they are displayed front and center on their own. In most recipes, that's the case — but not this one. Placing leeks in a precision cooker is an ideal way to prepare leeks for the starring role they so deserve. The gentle cooking method helps keep their slender shape intact, and brings out their natural sweetness that will surprise. In this dish, they are featured prominently in a cold salad preparation. A few bay shrimp, some fresh snipped parsley, and a zingy vinaigrette give the leeks a real presence. This easy dish makes for an elegant first course — one that leaves no doubt that leeks can indeed be a superstar.
Author
Carolyn Jung
Carolyn Jung is a James Beard Award-winning Bay Area food journalist, whose work has appeared in the San Francisco Chronicle, Every Day with Rachael Ray, Coastal Living, Via magazine, Food Arts, Edible Silicon Valley, Wine Spectator and other publications. She is the former staff food writer for the San Jose Mercury News. Her debut cookbook "San Francisco Chef's Table'' published in December 2013. She is also the creator of the acclaimed blog, FoodGal.com.
Prep Time: 00:20
Recipe Time: 01:00
Temperature : 183.2F / 84C
Ingredients
6 leeks
5 tablespoons extra virgin olive oil, divided
Kosher or sea salt and freshly ground black pepper
1 small shallot, minced
1 tablespoon champagne vinegar
1 teaspoon Dijon mustard
1/3 pound cooked bay shrimp
Chopped fresh parsley
Directions
Set the Anova Sous Vide Precision Cooker to 183ºF (84ºC).
Cut off and discard green tops from leeks. Trim root ends of each leek. Wash leeks well under cool running water, as dirt will often hide in the interior layers. Cut each leek into two or three equal lengths.
Brush leeks with 1 tablespoon olive oil. Season with salt. Place in a large zipper lock or vacuum seal bag. Seal the bag using the water immersion technique or a vacuum sealer on the dry setting.
Place the bag in the water bath and set the timer for 1 hour.
Meanwhile, make the vinaigrette: In a small bowl, whisk together minced shallot, vinegar, Dijon mustard, and remaining 1/4 cup olive oil. Season to taste with salt and pepper.
Finishing Steps
When the timer goes off, remove the bag from the water bath and immediately transfer to an ice bath. Chill leeks until they are cool to the touch.
Divide leeks between four plates. Season with salt. Top each leek with some of the bay shrimp. Spoon over some of the vinaigrette, sprinkle with chopped parsley, and serve.