Sous Vide Lamb Loin Chops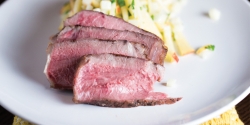 Lamb loin chops are lean, tender and easy to find at the grocery store or butcher shop, so they're a great cut to start with if it's your first foray into sous vide lamb. This recipe from #anovafoodnerd Amanda Brown is super simple and packed with flavor. Amanda went with 131ºF for a medium rare result and served it up with a side of salad. Get the full details on the Anova blog, along with Amanda's recipe for her apple, cheese & chive salad side dish.
Author
Amanda Brown
Nourished by Season is a home cooking blog by Amanda Brown, a Minneapolis city-dweller with a passion for cooking using high quality local and seasonal ingredients. Amanda provides healthy and delicious, paleo(-ish), vegetable-forward recipes, inspiration and resources. Amanda launched Nourished by Season in June of 2016 for home cooks like herself who refuse to compromise on flavor and have a strong desire to obtain their food from sources that support local family farms.
Prep Time: 00:10
Recipe Time: 03:00
Temperature : 131F / 55C
Ingredients
4 lamb loin chops (2 / person)
8 sprigs thyme
4 sprigs rosemary
2-3 cloves slivered garlic
salt & pepper
Directions
In a large pot or other basin of water that will fit all your lamb. Attach the Precision Cooker and set it to 131°F / 55ºC for a medium rare result.
Season each lamb loin with salt and pepper on all sides and place in a resealable zipper locking or a vacuum sealable bag. Evenly distribute a couple sprigs of thyme, a sprig of rosemary and the slivered garlic on top of the lamb loins and seal each of the bags.
Add your bags of lamb to the water bath, press start on this recipe in the Anova App, and walk away. I set my timer for 3 hours. The Anova Precision Cooker WI-FI is WI-FI and Bluetooth enabled, so you can control it remotely with the app.
Finishing Steps - Stovetop
When the lamb is finished in the water bath, take it out of the bag and remove the garlic and sprigs of rosemary and thyme. On a pre-heated pan or the grill, sear each chop on both sides for 1-2 minutes. Once removed, let rest 5-10 minutes.
Slice the meat and serve with a side salad, like my apple, cheese and chive salad–recipe on the Anova blog!